Project Ara is an odd beast – it's the IBM PC of the smartphone world, a common platform for which different manufacturers can build components. Toshiba unveiled several camera modules for the customizable smartphone platform and this is just Phase 1, Phase 2 includes a wider selection of modules and finally Phase 3 will bring "unique modules" (that's still under planning).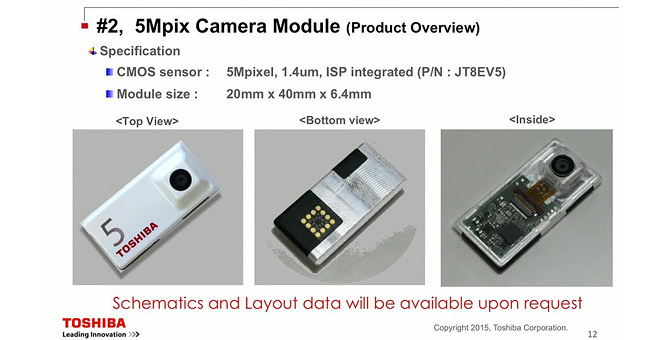 Anyway, there are three camera modules – one selfie camera and two main cameras for the back.
The selfie camera is designed to slot above the display and will offer 2MP resolution. The other two cameras use the 2×1 segment size for Ara modules and come in 5MP and 13MP resolution. Toshiba says it has sensors of various resolutions going up to 20MP and a special sensor that goes up to 900fps (at 320 x 240px).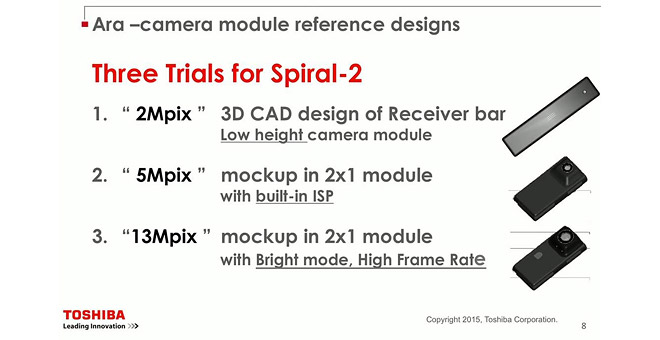 Keep in mind the difficulty here is getting the module to work at all – unlike traditional smartphones where components are fixed in place, hot-plugging is the norm Project Ara phones. Here's a video of a prototype camera getting plugged into a development board and booting up. It looks as simple as plugging in a USB webcam.
Going forward, Toshiba will make modules in 1×1, 1×2 and 2×2 sizes that add NFC, external storage, wireless charging and TransferJet (a high-speed, NFC-like tech). These are coming this year, for next year the company is planning unique modules but wouldn't give a hint what they would do.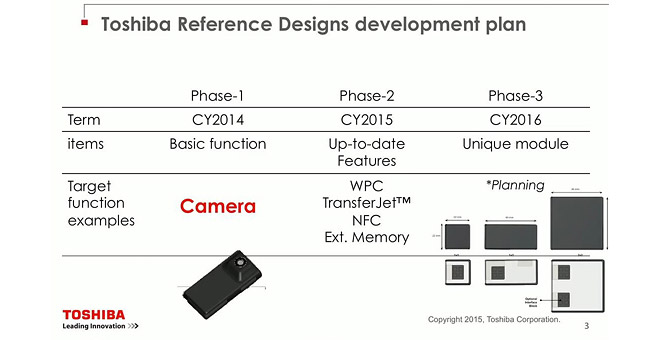 Toshiba is a big part of Project Ara and is involved with the standards committee that is designing the backbone of Ara – the one that handles power and communication with modules that are easily detached and attached to and from the smartphone.