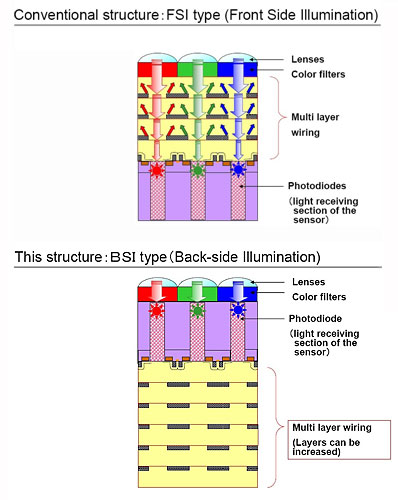 If you've been loosing your sleep about the megapixel war coming to an end – rest assured it won't be anytime soon. Toshiba just announced their 14 megapixel 1/2.3" back-lit CMOS image sensor, intended for use in mobile phones and digicams.
Back-side illumination (or BSI as Toshiba likes to call it) boosts light sensitivity by 40%, which should make up for the constantly shrinking pixels. That is because lenses are deployed on the rear of the sensor, not on the front, where wiring limits light absorption.
Sampling of the new sensor will begin in December and mass production will follow from the third quarter of 2010. A 14 megapixel camephone as a present for Christmas next year sounds pretty good, right? Oh yeah, given enough processing power that thing is also capale of  1080p@60fps video recording.