The Linux-based Tizen platform is yet to see the light of day on a retail handset but it goes without saying that the OS is being tested internally by Samsung. As such, we are not completely surprised to see the name pop-up in benchmark results, which in this case happens to be the browser based HTML5 test.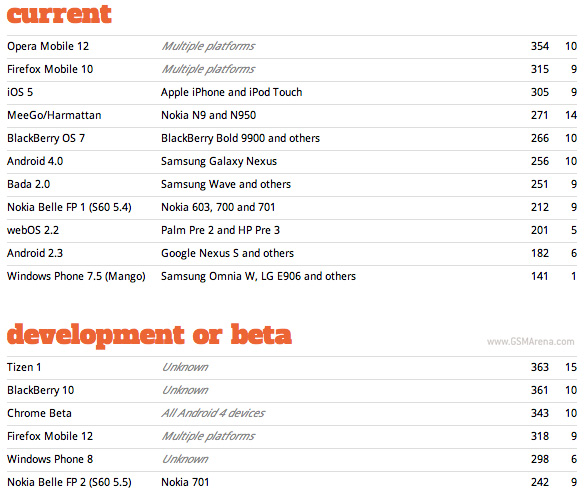 What's interesting, however, is that the Tizen browser not only showed up in the benchmark, it also managed to top it within its category (Mobile Phones) while running on an unknown device. But it wasn't alone; snapping at its heels was a browser from another, yet to be launched OS, the BlackBerry 10.
As you can see from the scores above, the Tizen browser took the No.1 spot with a score of 363 with 15 bonus points whereas the BlackBerry 10 browser got a score of 361 with 10 additional points. Although it's not confirmed yet, both browsers are likely to be based on the WebKit rendering engine, same as Mobile Safari and the Android browser. The third spot goes to the stable version of the recently launched Opera 12, with a score of 354 and 10 extra points. In comparison, both the iOS 5 and Android 4.0 browsers are behind, the latter more so than the former, and the Internet Explorer Mobile in Windows Phone 7.5 scored even less than the browser in Nokia Belle.
Of course, in real world, the HTML5 score does not affect the browser performance by a lot, especially today, but it's one of those things that's good to have, particularly in terms of future-proofing.
Update: As noted in the comments below, the score for the Tizen browser has been updated and it now stands at an astonishing 387 points with 15 bonus points. That's even more than Chrome 17, which currently has the highest score of all the desktop browsers out there!