You may have heard about the game Tiny Wings by now. It was released in February last year and so far has only been available on the iPhone and iPod touch.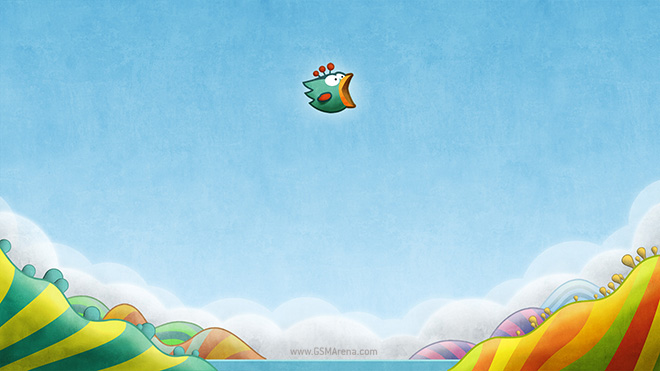 A few days ago, developer Andreas Illiger released the v2.0 of Tiny Wings that introduces some new gameplay mechanics, along with an iPad version. Let's take a look at it.
Just in case you don't know about this game, here is a quick recap. Tiny Wings involves controlling a bird with small wings that cannot fly on its own. Instead, it uses the terrain to its advantage and slides down slopes to cover ground. As a player, you have just one thing to do: tap the screen, which causes the bird to slide down the slope faster, which in turn causes it to jump higher when the terrain slopes upwards.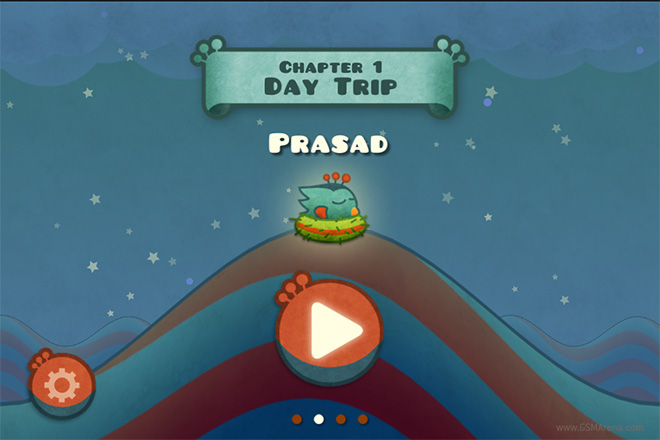 You have to time your taps properly so that you attain maximum speed while going up the slope and thus cover the most distance. You have a limited amount of time on your hand and the more ground you cover in that time, the higher your score.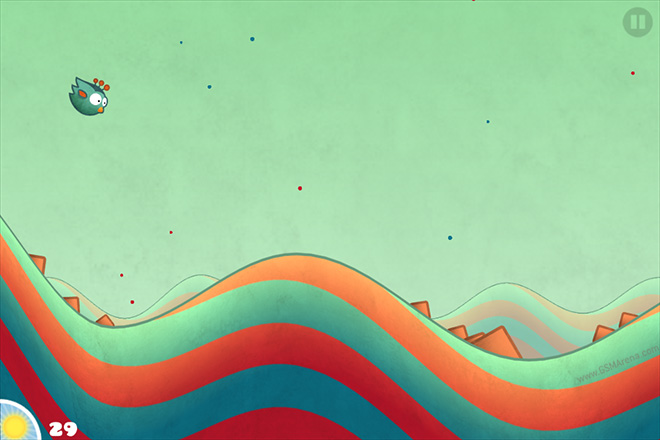 Tiny Wings makes use of procedural graphics, that is, graphics that are generated on the fly. This means that the terrain never looks the same no matter how many times you play the game.
v1.0 of the game had just one level that involved covering as much distance as possible and performing certain challenges, such as staying in the air for a certain amount of time or covering a certain amount of distance.
v2.0, however, brings a new game mode called 'Flight School' that adds four more birds. In Flight School, you can choose from any of the four birds (they have the same abilities; only their color and the sound they make are unique). The current version of Tiny Wings has three islands and each island has five levels. Once you choose a bird, you will be competing against the other birds to reach the destination first. If you are in the top three, you progress onto the next level, or you try the level again.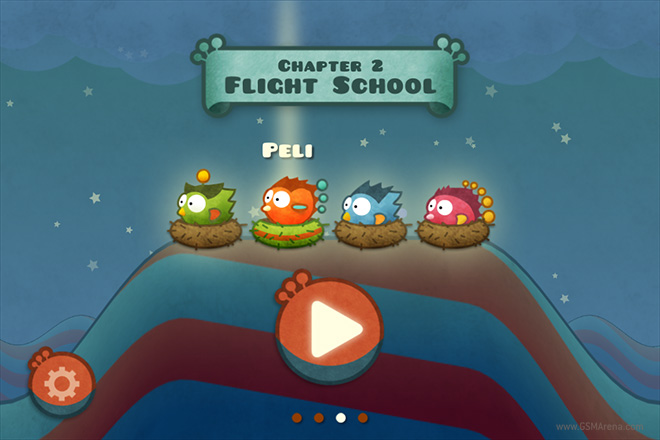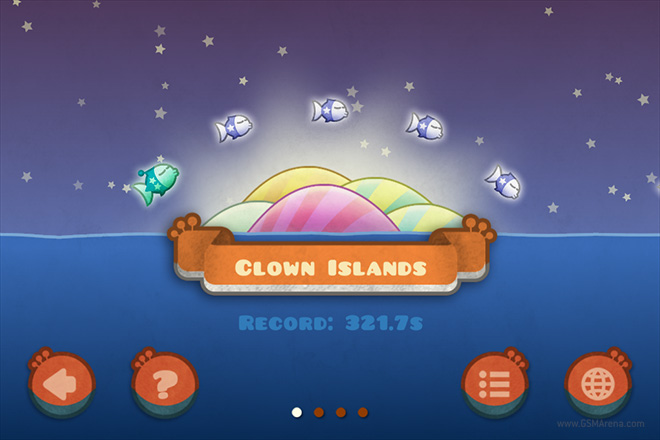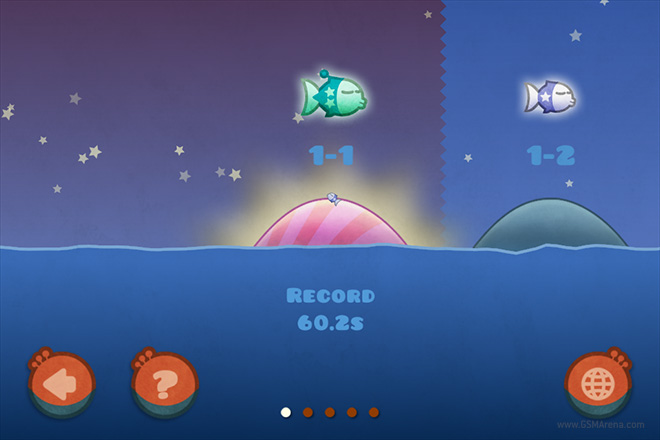 The gameplay is basically the same as in the main 'Day Trip' game mode, although the environments have been slightly changed. There are no coins to collect here and the blue boost points have been replaced with sunflowers, which will boost you if you land directly on them. Certain depressions in the terrain now also contain water and if you land in it you lose your speed and you can't jump out.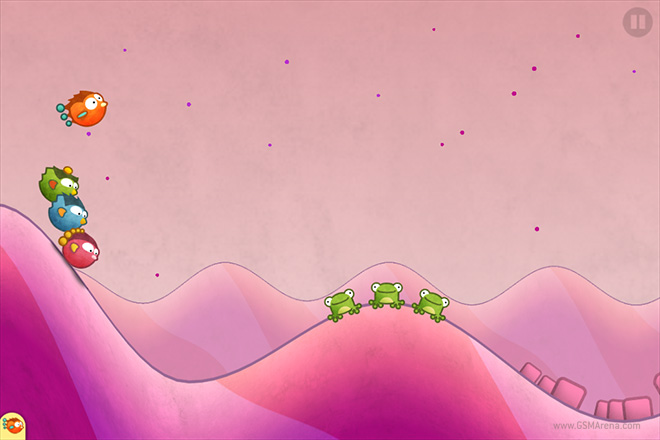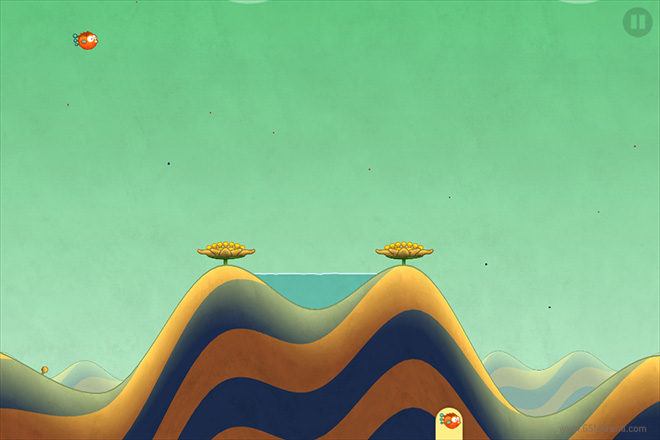 The new game mode is fun and it gives you something to compete against, even in single-player mode. I also noticed that although it's easy to come in at second or third, the first position is substantially more difficult to attain, which keeps things from being too easy.
Since there are only three islands for now (with more coming soon) and with fifteen levels between them, it's not too time consuming to finish them all in once sitting. After completing each island your bird gets an upgraded nest. Once you fully upgrade the nest of one bird, you can choose another and play the levels again, if you so wish.
Another major thing that this update brings is an iPad version. The iPad version is a separate download and supports the Retina display on your new iPad. This version also comes with a split screen multi-player mode, where the screen is vertically divided in two parts so that two people can play and compete in a single game simultaneously.
Now, if you have played this game before, you know that it can be very addictive. Tiny Wings falls in the category of games that includes the likes of Canabalt or Temple Run, where the gameplay is ridiculously simple and repetitive, yet you keep on playing it again and again in the hopes of doing better next time just because it's so much fun. Tiny Wings also complements the fun gameplay with beautiful hand-drawn visuals that look especially stunning on the Retina display and lovely, soothing music that stays with you long after you stop playing the game.
Overall, Tiny Wings is simple, fun and beautiful. It can be enjoyed by anyone, anytime and does not cost a lot. v2.0 isn't a substantially major leap forward but then again, the game was already very good so even small improvements can go a long way. A must buy, if you haven't already done so by now. Too bad it's only available on iOS right now. Hopefully, the developer will release it on other platforms soon.
Rating: 4.5/5
Pros: Simple yet addictive gameplay, beautiful visuals and sound
Cons: Not a universal app (iPad version is separate and slightly expensive)
Developer: Andreas Illiger
Content Rating: 4+
Size: 15.7/22.3MB
Price: $0.99/$2.99