Yesterday the chip-maker Texas Instruments announced that their OMAP4 mobile chipset is the first to receive the Netflix HD certification. And before you rush to any conclusions, you should know this doesn't mean that this will be the only chipset compatible with the app.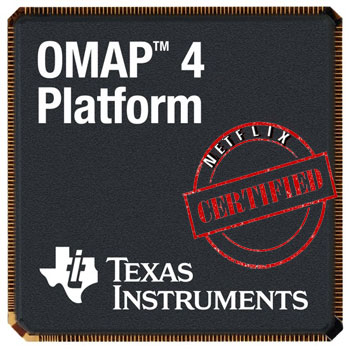 Instead, the certification comes to show that Netflix believes that OMAP4 is the best-optimized chipset for its service allowing streaming of up to 1080p 30fps multi-standard videos. Also, it offers similar performance with a lower load and thus less power consumption and improved multi-tasking.
The M-Shield security technology scored another point for the TI chipset as according to the company "it protects premium content and mobile devices from attacks while streaming with the Netflix application". The M-Shield solution implements a hardware-protected, trusted execution environment (TEE), which runs on the OMAP processor, yet does not require a dedicated chip or extra CPU cycles.
The TI OMAP4 is the chipset that does the math inside the LG Optimus 3D smartphone so early adopters should be glad about the news. The upcoming Motorola Droid 3 (and its European version, supposedly called Milestone 3) should have it on board when officially released.