Apple's implementation of Intel's Light Peak technology is going places. Intel has now announced that they will be bringing the technology to Windows-based computers as well, with companies like ASUS and Acer joining the bandwagon and getting their products ready for a 2012 launch.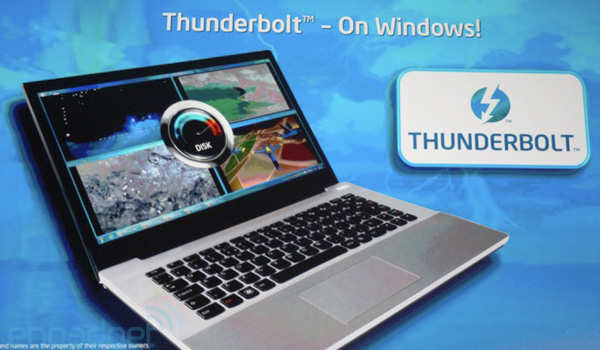 Being the same essential technology, Thunderbolt on these other devices will work the same way as it does on the new range of Mac computers. It will have the same specifications and features that Apple touts for its new range of Macs and will work with the same set of accessories. This means you will get the same 10Gbps bi-directional bandwidth, with the ability to daisy-chain six devices at a time, 10 watts of power from each port and even the ability to connect a display with a Mini DisplayPort connector or an adapter.
The accessories that will make full use of the Thunderbolt's abilities are still few and far between at the moment but now that a lot more devices will be supporting it, it won't be long before the market is flooded with them.
It must be said though that Apple's support for the technology has helped it gain popularity and now with the help of other OEMs and Intel it will finally get the recognition it deserves. Being vastly superior to USB 3.0, not just in bandwidth but in features as well, I would like to see Thunderbolt as the default connectivity option in the future.