Well, there's no iPhone 5, just the 4S. But what of the older models? In a surprising move, Apple decided not to deprecate the 3GS, which puts the number of iPhone models currently available to three.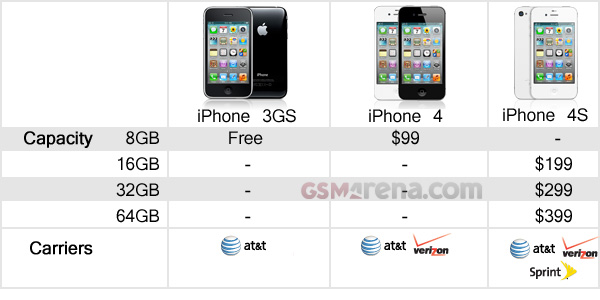 First of all, the iPhone 4 was just put in the "old" category and it will remain in the portfolio only in its 8GB version. Both the Black and White versions will retail for $99 on a contract. First deliveries from AT&T and Verizon will be on October 14, while Sprint's version is "coming soon" (yes, Sprint's getting this model too).
The iPhone 3GS will be offered free (on contract) with 8GB built-in storage. In the States, the model is AT&T only, there won't be any CDMA-enabled 3GSes.
And then there's the star of tonight's announcement – the iPhone 4S. It will be available on all three carriers (starting October 18th, pre-orders begin October 7th). Prices are as follows – 16GB for $199, 32GB for $299 and 64GB (a new capacity for iPhones) will go for $399.
Those prices are when you sign a two-year contract, of course. You'll be getting the exact same device from each carrier – the iPhone 4S is a GSM/CDMA dual-mode device.