We're still playing with all the features of the Samsung I9100 Galaxy S II (and there are plenty of those to get through). Right now, I'm plugging every thumb drive and card reader we have laying around our office to test the USB On-The-Go (OTG) functionality.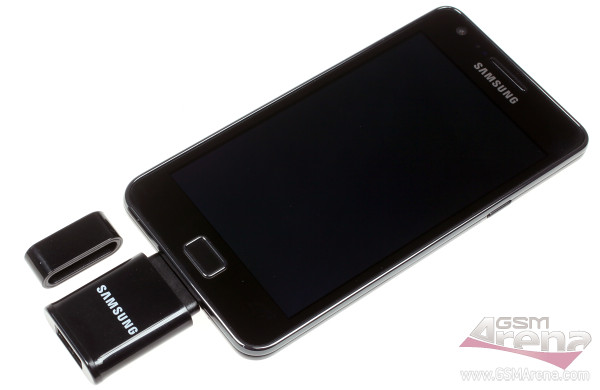 I used an adapter from Samsung for the tests. Here's what worked and what didn't.
Thumb drives were a hit or miss affair – some worked, others didn't. The ones that didn't were rejected as "high-power USB devices", which the Galaxy S II doesn't support. The card readers I tried all worked (even using big CF cards), you just have to make sure to put the card in the reader before plugging it in the phone.




The MHL adapter used for the test
I got ambitious and tried plugging-in a USB keyboard but that didn't do anything (even though it wasn't reported as a high-power device).
Connecting phones mostly didn't work too – of all the phones I tried, all but one (an aging Nokia S40 that can't charge over USB) turned out to be high-powered and incompatible. The Nokia N8 managed to connect to more phones than the Galaxy S II, so the droid didn't impress us terribly much in this department.
Still, if you need to pull some files off a thumb drive or a memory card (of whatever form factor) the S II will come through most of the time.
Here's the Samsung I9100 Galaxy S II doing its USB On-The-Go magic on video:
I also ran a few copy tests with the Galaxy S II and my computer. The tests were done with one big file (170MB) and 272 small files (each under 100KB).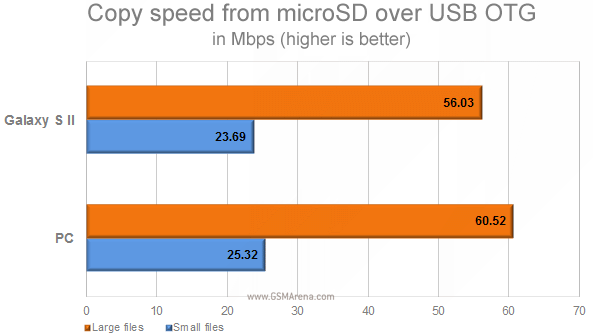 As you can see, the speeds are a match for a regular connection with a PC. So no worries there!