Some leaked slides bring us two new members of Sony Ericsson's XPERIA lineup – and they are both running Windows Phone 7. The two new phones are called XPERIA X7 and XPERIA X7 mini and they offer specs that should make current-gen WP7 devices shiver (if the specs turn out to be the real deal)…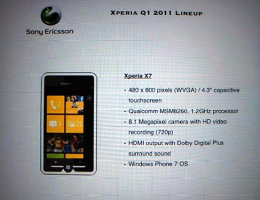 Sony Ericsson XPERIA X7 and XPERIA X7 mini
The Sony Ericsson XPERIA X7 is the bigger Windows Phone 7 mobile of the two – and by big I mean 4.3 inches of WVGA screen big. The other exciting feature is the MSM8260 Snapdragon CPU ticking at 1.2GHz.
Aside from the large screen and the CPU, which will be among the first to go beyond 1GHz (if the rumors pan out that is), the Sony Ericsson XPERIA X7 has an 8MP camera with 720p video recording, HDMI port and Dolby Digital Plus. As for connectivity, HSPA+ is listed with no concrete speeds (but probably very fast).
The Sony Ericsson XPERIA X7 mini, unlike the X10 minis, has a medium-sized 3.5″ WVGA touchscreen and it uses the older QSD8250 Snapdragon running at 1GHz. The mini's connectivity is a bit slower as well – it offers vanilla HSPA.
Despite the "mini" moniker, the camera on the XPERIA X7 mini is better than the one on the non-mini phone – 10.1 MP snapper with xenon flash and 720p video recording. The slide also promises 3x optical zoom. Oops, we might have bought the whole thing up so far, but the optical zoom totally lost us. Not to mention the generally poor design of the phones on the slides.
The XPERIA X7 and X7 mini will reportedly launch in Q1 next year, but we doubt that.
They sound rather fishy, don't you think? A 10MP camera? Optical zoom? And all the info is uploaded to YouTube via a newly created account? If they are even remotely related to some real products, I guess that would be awesome. But for now… I'll pass.