The MWC saw so many tablet announcements, but few of the manufacturers told us anything about the pricing. Fortunately things are starting to clear out now as two of the new slates got an estimated price tag and one of them even a target release date.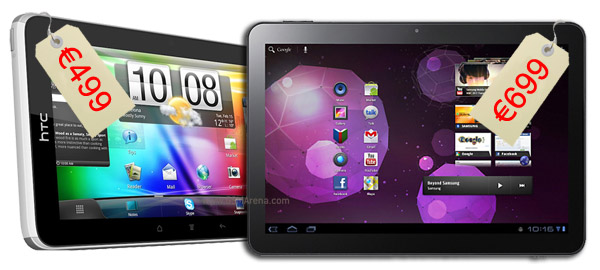 First Vodafone Portugal came up saying it will get the Samsung Galaxy Tab 10.1 in March. It will charge its customers good €700 for the new tablet.
We still have no word as of what the Galaxy Tab 10.1 will cost at Vodafone UK – the other Vodafone branch that confirmed that it will sell the latest Samsung slate sooner or later.
Then we have this German online retailer that already lists the HTC Flyer on its webpage. You can pre-order the Wi-Fi-only Flyer for €500 right now. By the way the 3G-enabled version of the Flyer is too available for pre-order in Germany, but that one will set you back €700. Unless that 3G module is made of solid gold I can't quite see how it's worth the huge premium, but who am I to judge.
There's still no information on the market release date of either version of the Flyer, though.