The Samsung Galaxy mini 2 is the heir to a very popular Android device on the cheap.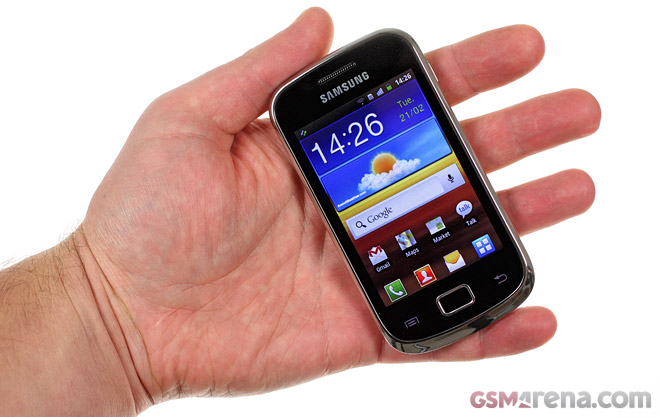 It had leaked earlier but today it became official and (surprise!) we have it right here in our headquarters. We'll be bringing you a full coverage in due time but for now we've prepared some pictures and a video.
The mini 2 is not a dramatic makeover in terms of specs and looks, but Samsung have gone an extra distance to make it a worthy replacement to its predecessor.
The display has grown slightly from 3.14″ to 3.27″ and the resolution has moved from QVGA up to HVGA (320 x 480). The camera remains the same but video recording is now VGA instead of QVGA.





Samsung Galaxy mini 2 studio shots
The chipset inside is the same but the mini 2′s processor is clocked at 800 MHz (200 more than the original) and there's a healthy 100 mAh more to the battery, which should help with the battery life too. RAM has been improved from 384 MB to 512 MB and there's Adobe Flash support too.





Samsung Galaxy mini 2′s shiny back panel • Held in hand
The design of the mini 2 has also improved, swapping the physical back and menu keys for capacitive ones. There's a metallic-like rim around the front of the device to give it a more sophisticated look, while the back panel is in tone with the younger-minded mini – it's orange colored but features no pattern as the original.