Holo fans are probably still a little hung over after finding out that the Galaxy S4 Google Edition wasn't an accident – HTC is doing it too with the One. So, the two arguably best Android phones are getting a pure Android option, but what does that mean in terms of proprietary functionality?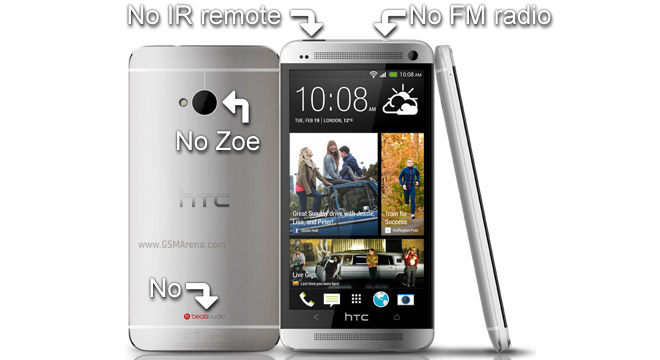 Android Police asked HTC who sent back a detailed reply.
HTC One's camera is its biggest feature and a lot of that depends on Zoe. The HTC One with Nexus experience loses Zoe and all its image processing magic (video Highlights, sequence shots, object removal, etc.) but the stock camera does have Photo Spheres.
Also HTC says "the camera will still produce comparable high quality pictures" so presumably Optical Image Stabilization will still work, which was the most important feature anyway. It remains to be seen how the native low-light mode compares to the one tuned by HTC though.
Similarly, the software part of Beats Audio will be removed but the high-quality audio hardware will remain.
Other hardware features that depend on non-AOSP software will also be disabled – that means no IR blaster and no FM radio. If Android grows native support for such features later on, they will be enabled (we could probably count on some flashable solution from XDA in the meantime, too).
The HTC logo that some modders managed to turn into a third button will remain disabled.