Some really exciting events are taking place in the world of mobile CPUs in the past day or so. Just as NVIDIA showcased a demo of their latest work in progress – the quad core mobile beast named project Kal El, Qualcomm "leaked" a slide which shows their upcoming Snapdragon processors, along with a hint for a possible sample of them next month.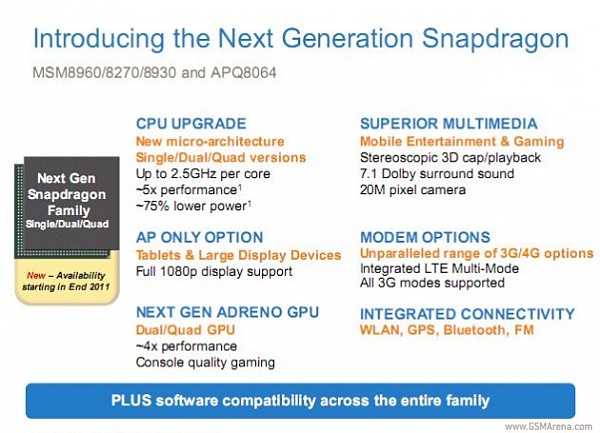 The new Snapdragons will use a brand new Krait CPU architecture which will offer speeds of up to 2.5GHz per core and 150% better performance, all while consuming 65% less power than the current offerings from the company. There will be single, dual, and quad-core versions of them available. The most important novelty to them is their 28nm technology which allows them to do so much, and use such small amounts of power.
The dual-core Krait incarnation – the MSM8960 should be sampled next month. It is expected to be featured in an HTC device by the end of this year. The MSM8960 will also feature the latest generation Adreno 225 GPU which will be eight times faster than the original one.
The single-core MSM8930 and quad-core APQ8064 will begin to roll out in early 2012. This means that NVIDIA will be the maker of the first quad-core mobile CPU. It is also among the top candidates to power Google's third Nexus phone.