Two new netbooks are joining the ranks of the MSI Wind series – the MSI Wind U130 and Wind U135. The two netbooks pack Intel's latest Atom platform, Windows 7 Starter, 802.11b/g/n Wi-Fi and optional WiMAX connectivity.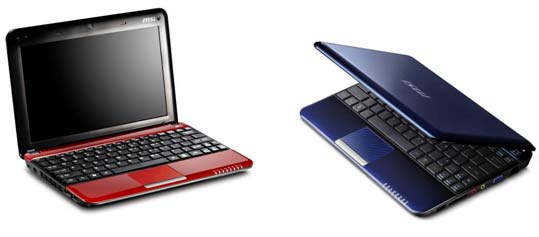 Both the MSI Wind U130 and U135 are powered by an Intel Atom N450 CPU, which runs at 1.66GHz. This new platform puts the graphics controller and the memory controller on the same chip as the CPU (Core i3 and Core i5 do the same trick), which improves energy efficiency – you get 10% more performance and 15% more battery life.
The Intel GMA 3150 graphics controller that is built into the CPU chip however only helps with MPEG2 decoding – it doesn't work for H.264 or VC-1. So, don't count on watching HD videos on an MSI Wind U130 or Wind U135.
Anyway, the rest of the specs are standard netbook – 10" LED display with 1024×600 resolution, 1 slot for DDR2 667MHz RAM for up to 2GB RAM, 1GB installed, 160GB/250GB hard disk, 3 USB ports, 1 VGA port, an Ethernet port, 1.3MP webcam and stereo speakers. The OS is Windows 7 Starter. Both MSI Wind netbooks support 802.11b/g/n Wi-Fi and there's an option for WiMAX if you want it (though this will probably be more common among subsidized units).
The MSI Wind U135 and U130 measure 260x180x19-31.5mm and weigh 1200g with a 3-cell battery. There is also an optional 6-cell battery.
The MSI Wind U135 comes in Refined Silver, Wind Dancer Black, Trendy Blue and Cherry Red and has a touchpad that is 20% bigger than the one on the U130. The MSI Wind U130 is available in just two colors – Angelic White and Wind Dancer Black. Laptop Mag already have a review of the U135 if you're interested.
The MSI Wind U135 is available in stores and online through (Amazon and Newegg) starting at 310 US dollars. The MSI Wind U130 is also available online for about 290 US dollars.