Polish tech distributor Arta Tech will be selling a phone with an e-Ink screen in Europe soon called Midia InkPhone. The handset promises comfortable reading and two weeks of battery life thanks to the energy-efficient screen and 1,800mAh battery.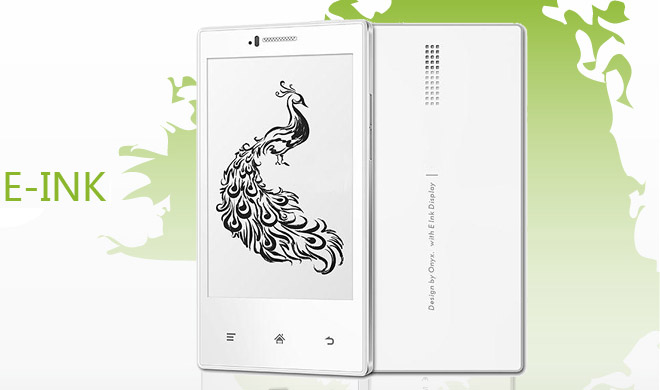 It features a 4.3″ Pearl e-Ink screen (like the Kinde reader screens) of 480 x 800 piexel resolution that is front illuminated.
Since the device prioritizes battery life and the e-Ink screen doesn't offer quick framerates anyway, the specs are thoroughly low-end. It's powered by a 1GHz processor on a Rockchip chipset with 512MB RAM and runs Android 2.3 Gingerbread.
The Midia InkPhone won't have access to the Play Store and app compatibility probably isn't great anyway (apps with animations won't work very well). However it does come with a preloaded e-book reader supports ePub, Mobi and PDF files.
With an extra-long battery life and limited smartphone functionality, it's better to think of this as a feature phone / e-book reader combo rather than a YotaPhone killer.
The Midia InkPhone will be available in Poland and Germany in April at €140 (just under $200). By the way, the device is a rebranded Onyx Boox E43.