On this side of the Atlantic, LG fans have been able to enjoy the benefits of the LG Optimus Black for sometime, but until now, US fans have been kept in the dark.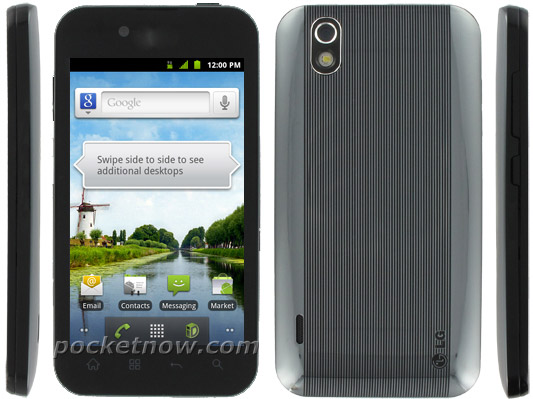 It would appear that this is about to change however, as the LG Optimus Black will be coming to Sprint in the US, not quite as we know it though. The Sprint flavored version of the Black will actually be called the Marquee but beyond that the changes are minimal.
Obviously you'll have a new radio unit that works with the Sprint service, but signs suggest that the Marquee won't support 4G WiMAX. The other main difference is the device's back. Unlike the Black with its solid black back panel, the Marquee sports a dapper grey pinstripe number that differentiates itself from its European brethren.
In case you don't know the Black/Marquee has a decent specs sheet but is reaching the point where it comes out as more mid-range rather than high-end smartphone nowadays. It runs a single core 1GHz processor paired with 512MB of RAM, there's 2GB of onboard storage (assuming the Marquee gets the same generous amount as the Black), but either way, memory is expandable up to 32GB via micro SD. There's also a 5MP camera on the back complete with a single LED flash and unlike the Black's launch, the Marquee comes out of the gate running Android Gingerbread 2.3 which is nice. Also we can't forget the impressively bright 4″ NOVA display.
There's no word yet on whether or not other US carriers will get either the Black or the Marquee, but Sprint's model will be available from October 2nd.
If you want to know more, probably best to look at our LG Optimus Black review here and our display comparison here. Are you going to pick one up? Let us know in the comments.