Nvidia's Tegra 3 chipset has been making waves in the Android world and with an ever increasing number of tablets adopting the quad-core SoC, it was only a matter of time before smartphones joined the fray too.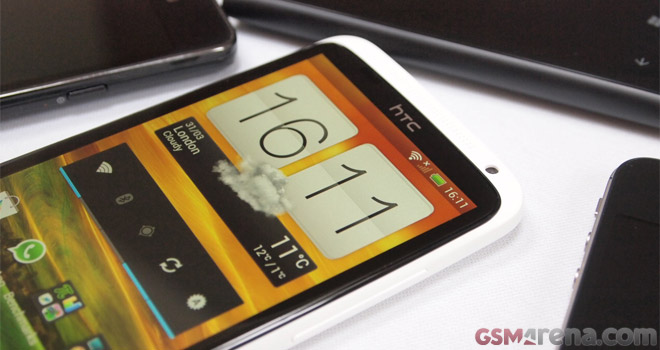 The HTC One X is taking center stage as the Taiwanese company's new flagship for 2012 and we go hands-on to see what it has to offer besides being the first quad-core smartphone to market.
Something we noticed back at MWC in February was design. The One X possibly most prominently out of the three devices HTC unveiled, demonstrating a more reserved, minimalist and overall less-fussy design language. With a combination of Gorilla Glass curving away either side of the display and perpendicular to the glass a curve in the polycarbonate body, the One X maintains a certain flow and consistency which previous devices have lacked. The same can be said for the dual-core running One S too, but the One X demonstrates the company's new design ideals to full effect.
The tidier design elements also carry across to the user experience too, with Android Ice Cream Sandwich, skinned with HTC's latest home-brew overlay, Sense 4.0 on top. Interaction is worlds away from Sense 3.0 with everything tightened and polished to a fine sheen. Perhaps from the quad-core lending a helping hand, or perhaps simply as a result of rigorous optimization on HTC's part, the UI is buttery smooth, smoother in fact than any previous device we've seen from the company.
Users can expect a variety of functions and services pre-built into the One X, with Dropbox (including 25GB of free user storage) and Evernote integration being two welcome new services out of the box. Not only that, with its new Super IPS LCD2 display, Android has honestly never looked so good. Not only is the One X's 4.7″ 720×1280 display pin sharp, but it also offers vibrant color reproduction and impressive viewing angles from any direction.
The One X is most certainly a device to enjoy media on, whether it be photos, HD video or audio, which is enhanced by the Beats integration in the firmware. For those who want to create media rather than just consume it, the camera on the back is a welcome addition too. The 8MP snapper is wholly impressive with effectively zero shutter lag and 1080p HD video recording, but as usual HTC have omitted a physical shutter button, a feature we know they can pull off so well.
HTC were particularly proud of their latest camera enhancements, which offer better picture and video quality, as well as allowing users to lift snaps either whilst recording or playing back video on the fly without any extra software needed; an impressive feature that worked flawlessly and something we're yet to see pulled off by a fellow Android device.
To give you a general sense of Sense 4.0 and just how smooth the One X is to use, take a look at our hands-on video below:
HTC's One X is setting the bar high for the competition in 2012, but with Samsung yet to unleash their much anticipated rival, the Galaxy S III and Apple's next iPhone not expected to touch down until halfway through the year, there's a lot of time to prepare before the battles commence, no doubt we'll be in the thick of it when they do though.
Check back soon to read our full on review with camera samples, benchmarks and an in-depth look at what makes the HTC One X really tick.