The AT&T exclusive Samsung Galaxy Exhilarate i577 is not the first Android smartphone with eco credentials from the Korean giant. However, the LTE packing, inconspicuously looking handset offers last year's top shelf spec sheet to go with its low price . All in all, enough to get us curious.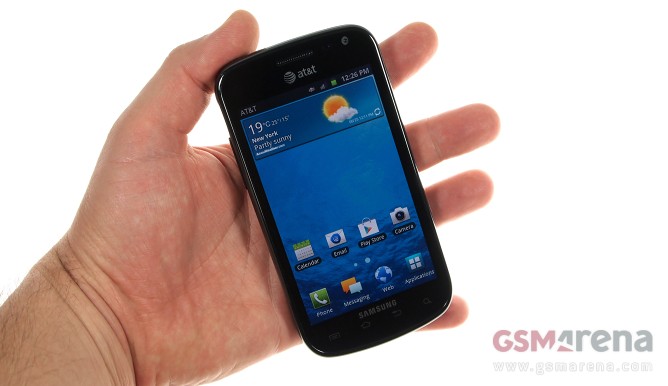 The Samsung Galaxy Exhilarate features a Qalcomm Snapdragon S3 chipset with two 1.2 GHz Scorpion cores, and a gig of RAM. There's 4GB of built-in memory and a microSD card slot for further expansion. The 4″ Super AMOLED screen with WVGA resolution is a familiar sight, and so is the 5MP camera on the device's back.
The handset's back panel is made from 80% recycled material. It is powered by a 1750mAh battery, and comes packed with an energy efficient charger in the box.
On the software side of things, the TouchWiz-ed Android 2.3.6 Gingerbread is an oldie, but a goodie. We would have surely appreciated Ice Cream Sandwich out of the box though – the phone is plenty powerful for such an exercise, and the OS has been out for quite some time now.
Here is the handset in action.
A review is well under way. Stay tuned for more.