RIM have today issued the v1.0.5 update for their Tablet OS, which last time I checked covered the BlackBerry PlayBook and not much else. What the update brings is a host of welcome additions to PlayBook users and the screens below should give you a brief idea of how this affects the user experience.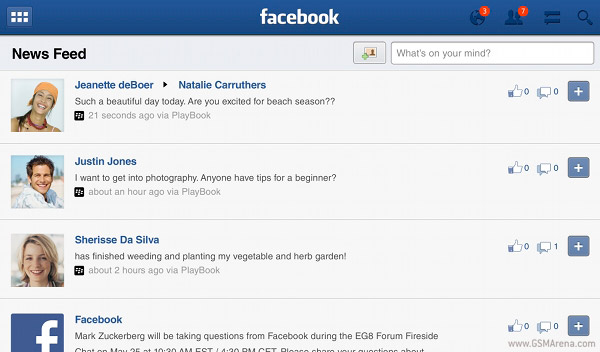 For starters, the PlayBook friendly Facebook application now comes included in the update and within it you can now upload videos and delete messages alongside the fact that enhancements have been made to Facebook Search, Pages and the News Feed. The other addition with regard to apps is that now the PlayBook supports in-app payments. There are tools too so devs can implement the feature in their latest creations which will allow users to generate revenue for them without taking them out of the experience.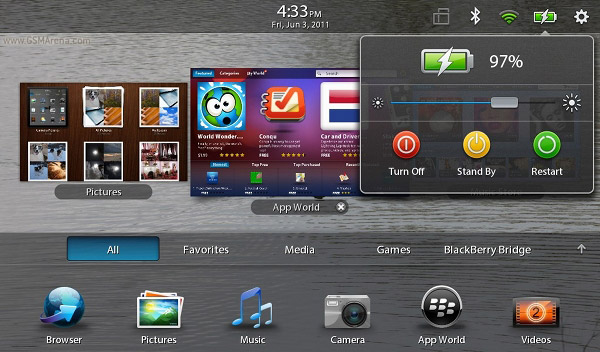 Closer to home the PlayBook will now be able to charge whilst fully powered down, display an alert if you use the incorrect charger and display a power-centric shortcut menu when you tap the battery indicator, allowing you to power off, reset or put the device into standby mode, handy. Oh and that same menu also gives you a brightness slider for your convenience. As the PlayBook marches across Europe as well, RIM have added language support for a host of EU countries including English (UK), French and Italian among others.
Video calling too has seen a tweak with the addition of the TURN (Traversal Using Relay NAT) protocol which will allows video chat to take place even when a call is crossing between a public network and an enterprised, firewalled network. Audio too has had a boost, with independent headphone volume control for those extra noisy areas. Last but not least the PlayBook will now actively search for a WiFi network, saved or public so you don't have to.
Want all these goodies and maybe a few more? If you buy a PlayBook from today onwards, Tablet OS v1.0.5 will come as standard and if you already have a PlayBook in your possession you should have received an update notification already. One thing we almost forgot to mention, and one thing that RIM have forgotten altogether is mail. Users are still waiting on a proprietary mail application, something that should have inexcusably been around from day one and would have been one of the most welcome additions in this update, other than that though, it's all good stuff!