The 360 browser has hit version 2.0, which adds new features ranging from performance improvements, through a download manager to Firefox Sync support. It's an alternative iOS browser and not an Xbox 360 browser despite the name – the "360" comes from the clever, circular layout of the menus/submenus on screen…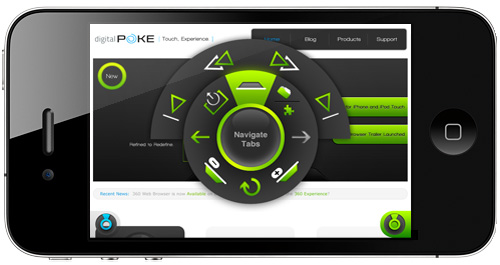 The 360 Web Browser supports plug-ins, one of which enables Flash videos on iOS devices. It only works on videos and re-encodes them before sending them to the device, but it can still be very useful if you want to use a video-sharing site other than YouTube.
Version 2.0 of the 360 browser adds support for Firefox Sync, which lets you sync bookmarks, passwords and open tabs between the phone and the desktop (move over Firefox Home).
Other new features include a download and file managers, plus file sharing and search suggestions. Check out the video below to see the clever menus in action:
The 360 Web Browser supports iPod, iPad and iPhone (including the iPhone 4 and its high-res Retina display) and can be had for $0.99 from the App Store. Also check out the developers' blog, they are eager to answer any questions you might have.