The Acer Iconia Tab A510 that we saw at CES this year just went on pre-order in North America. The A510 is a 10.1″ tablet running Android 4.0 ICS on a Tegra 3 chipset. Acer has decided to go ahead and sell the Olympic Edition of the tablet.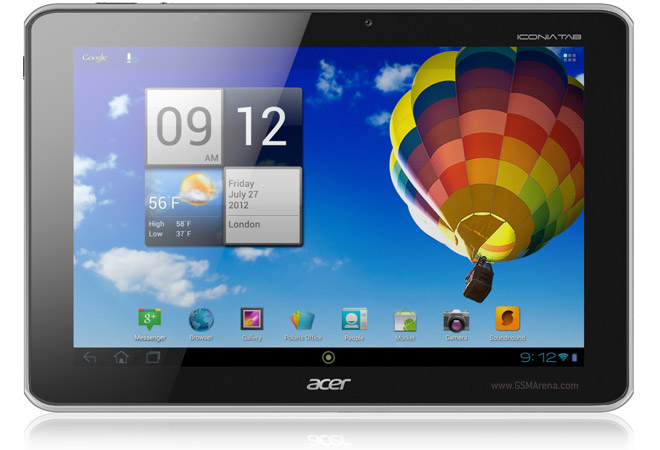 They also unveiled the remaining features and specs to fill in the blanks (Acer announced only preliminary specs at CES). They include a list of productivity apps that come preinstalled with the tablet and other cool stuff.
Here are a bit more details on the Iconia Tab A510. Its screen measures 10.1″ and has 1280×800 pixels resolution and 85-degree viewing angle. The audio system is backed by Dolby Mobile 3.
The main camera is a 5MP unit with HD video recording and it's accompanied by a 1MP front-facing cameras for video conferencing.
The Ice Cream Sandwich UI has been enhanced with the Acer Ring interface, which is a radial menu for quick access to the most used apps and websites.
The Iconia Tab A510 features Polaris Office 3.5 pre-installed for handling Office documents and will print wirelessly with Acer Print (compatible with 87% of brand-name printer according to Acer).
The A510 will last a whopping 12 hours of video playback thanks to its equally impressive 9800mAh battery and the power-efficient Tegra 3 chipset. The tablet has a microHDMI port for connection with HDTVs but can also use an HDMI to VGA converter to hook up to projectors.
There's plenty of room for movies and other files too – the Iconia Tab A510 comes with 32GB of built-in memory and a microSD card slot should you run out of space.
The Acer Iconia Tab A510 measures 259.1 x 175.3 x 10.2 mm and weighs 680g. The tablet's body has a soft touch finish and the back features the logos of Acer and the Olympic games.
The A510 is available for pre-sale in the US and Canada for $450, silver and black colors are available. You can also grab a snazzy protective case for an extra $40.