After following the smartphone announcements lately, I kind of wish I lived in Korea. Barely two weeks after Pantech unveiled the world's first Android smartphone with a 1.5 GHz dual-core CPU, KT Tech released Take Janus (yup, this is its name) with similar specs, and only for the Korean market again.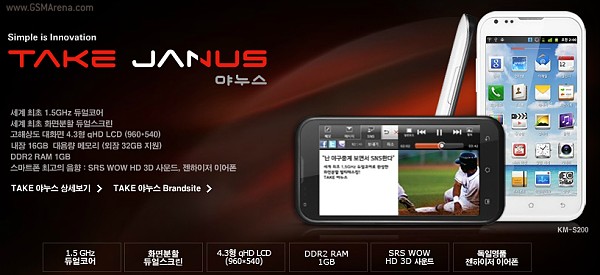 As you can see from the picture, the specs of the device are nothing short of fascinating. The CPU is Qualcomm's own MSM 8260 dual-core CPU which is clocked at 1.5 GHz (you can check out a benchmark here). It is paired with Adreno 220 GPU and a cool gig of RAM to ensure some mouth watering performance. There are two cameras on board – an 8MP, full HD capable snapper with auto focus and flash on the back, along with a front-facing 1.3MP one for video calls. With 16GB of built in memory and a microSD card slot, there is little chance that you will run out of space. The strangely named phone runs on Android 2.3.3 Gingerbread on a qHD screen. Every bit of connectivity is covered with HSUPA/GSM, WiFi, GPS, and Bluetooth on board.
All these monster specs come in a 9.8 mm thick, 131 gram package. There is no info on a price or a release date yet. I sure as hell hope that there will be a global version of the smartphone at some point (hopefully with a different name).