T-Mobile US just introduced officially the Android Honeycomb-ready G-Slate tablet by LG along with full specs and details on their Galaxy S 4G. The focus is without a doubt on the G-slate tablet, which offers a 3D display with 3D stereoscopic video recording, all powered by NVIDIA Tegra2 and the latest Android.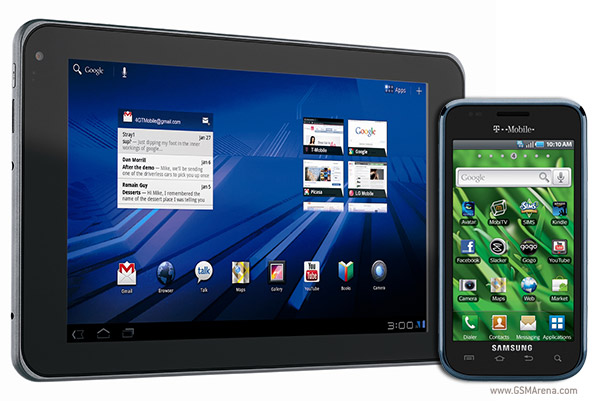 The G-Slate is one of the first tablets to pioneer the newest Android 3.0 Honeycomb, which is the first version of Android designed with tablets in mind. The LG tablet has been in the rumor mill for quite some time, but this time it's the real deal.
The T-Mobile G-Slate has a 8.9-inch 3D-enabled display, 32GB of on-board storage, two cameras on the back – one 5 megapixel with a single LED flash for stills and a second one used only to assist in the 1080p 3D video capture.
Unfortunately, to watch 3D content on the G-Slate you'll need to use 3D glasses. A pair of the glasses will be provided with the device.
T-Mobile US says the G-Slate will be available this spring whatever this means. There's also no word on launching it on our side of the pond.
At the same press event T-Mobile unveiled the full details about the 'new' Galaxy S 4G. It's pretty much the same Vibrant (Galaxy S) that was released last summer with a fast HSPA+ upgrade and 16GB storage as a standard. Being the same is actually a good thing in this case, because it still has the 4" Super AMOLED mounted on its front. Samsung won't be cutting corners with a Super Clear LCD on this one.
The term 4G at the back of the phones name means that in theory the new Galaxy S will be able to reach up to 21Mbps data speeds, thanks to its ST-Ericsson M5720 HSPA+ modem inside it. There's no word on its availability yet.
Finally, T-Mobile announced that it's expanding its HSPA+ network in the USA to a few new markets. Additionally, they promise a speed increase of their 4G network, claiming that by the middle of 2011 they will offer HSPA+ 42Mbps speed to many of its customers in the USA.