T-Mobile is going to extend its Wi-Fi calling service over some of their Android smartphones. The mobile app that would allow that will become available for select T-Mobile Android v2.x devices.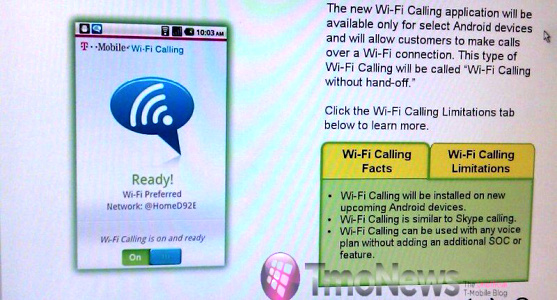 Currently, Wi-Fi calls and texts are available on three BlackBerry handsets – Curve 8520, Bold 9700, Curve 3G and Nokia E73 Mode.
Wi-Fi calling should provide T-Mobile customers with improved indoor service coverage. While the calls originate over the Wi-Fi network, they are then carried to T-Mobile's cellular network so in practice Wi-Fi calling is not free and it's billed the same as calling over the GSM network.
The Android devices confirmed at this stage are the upcoming Motorola DEFY and T-Mobile myTouch. T-Mobile promises to launch the Wi-Fi service in the coming months and will work to extend it to more Wi-Fi-enabled Android 2.x devices. Wi-Fi calling plans will be disclosed at a later stage.