The 3D shooting, 3D viewing T-Mobile G-Slate tablet showed up at CTIA to announce its price and remind people that it's coming. The T-Mobile G-Slate (a version of the LG Optimus Pad) has two cameras to capture 3D photos and videos and can display them on its 8.9" screen (glasses are required though).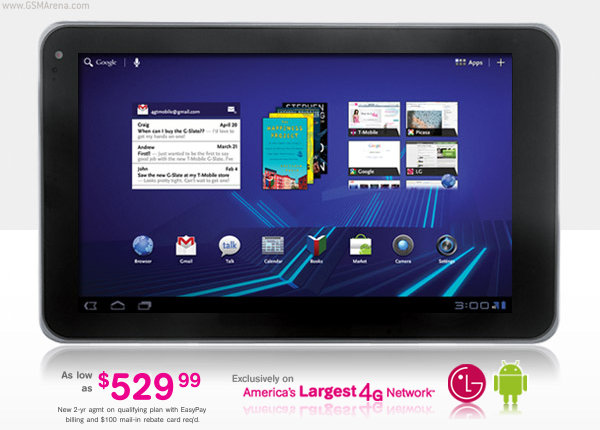 So, how much would T-Mobile and LG ask for the G-Slate, keeping in mind its Tegra 2 internals, 32GB built-in memory and 4G (HSPA+ really) connectivity? $529.99 after $100 rebate and that's on a 2-year contract.
The T-Mobile G-Slate will be arriving some time later this spring, running Android 3.0 Honeycomb on a 1GHz dual-core CPU.
That's great and all but $529.99, really? If it was without a contract it would have been a bargain, but a 2-year contract with data plan is just overly ambitious.
Would you buy a T-Mobile G-Slate for that price? If yes, you can sign up here for updates.