An interesting study, released by the mobile ad company Smaato reveled that Symbian users click more ads than the users of any other mobile platform. The numbers are based upon 40 mobile ad networks and over 6 billion ad requests served in the Smaato Network of more than 4 000 registered mobile publishers.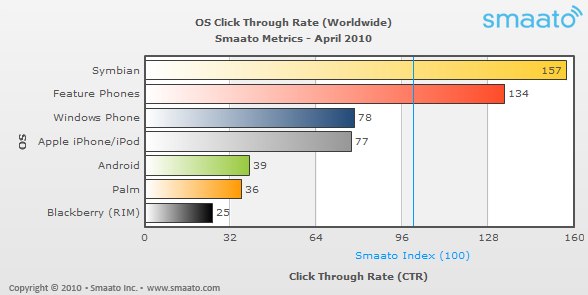 The click through rate of the Symbian users is 57% higher than the average, way higher than that of the next best performer (in the eyes of mobile advertisers, at least) – that's feature phones (34% higher than average).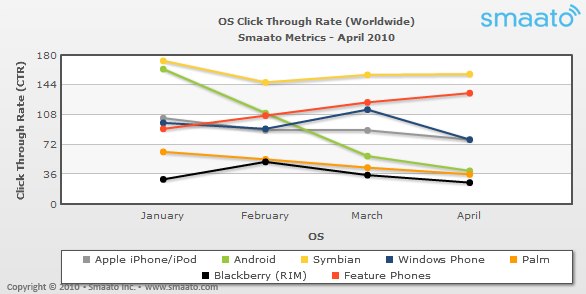 Windows Mobile/Phone and the iPhone OS users follow, clicking respectively 22 and 23 percent less adverts than average. Android, Palm and BlackBerry users are last in this ranking, barely bothering to click on any ads. But I guess, that's to be expected. BlackBerry and iPhone web browsers don't have Flash support. And when I come to think of it, I guess, 90% of the ad banners on GSMArena.com are Flash-based. And our publication depends entirely on ads as means of income. That should tell you something on how important Flash is to most web publications. I'm looking at you, Steve Jobs.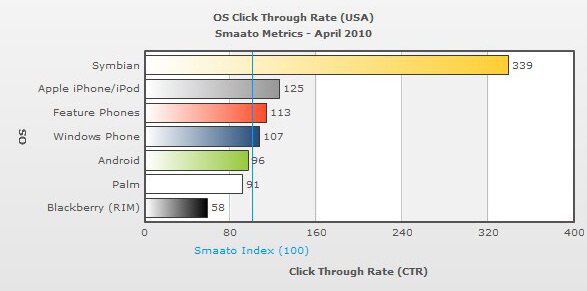 Interestingly enough the global leadership of Symbian in terms of mobile ads click-through rates is mostly due to the American users, who click over 3 times more ads than average. In Europe, however, Windows Phone is leading, followed by iPhone OS with Symbian coming in third.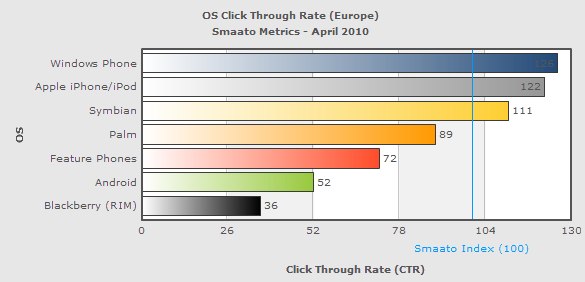 Source