I've written about Swype a few times before but now it's getting competition from an old heavyweight in input prediction, Nuance, better known for their T9 product.

Their competitor is called T9 Trace and the idea behind it is pretty much the same, though reportedly, there are a couple of advantages…
Both Swype and T9 Trace work by guessing the desired word from a trace – the user traces with their finger over the letters of the word in the correct order. The advantage here is that because you don't have to lift your finger after each letter, it's much faster than tapping the keys.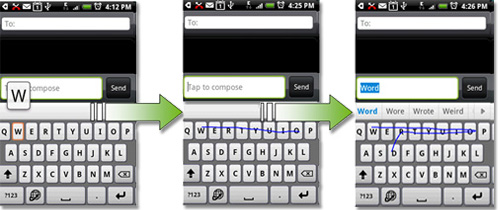 T9 Trace builds on the text prediction capabilities of the original T9 method and throws in several extras. The more interesting ones are the bilingual input (you can type in two languages simultaneously, I have no idea how that's supposed to work) and multi-modal support – T9 Trace supports both on-screen QWERTY and on-screen 12-key keypads.
The 12-key options sounds interesting because it can probably be used on smaller screens rather well (Sony Ericsson XPERIA X10 mini, I'm looking at you).
T9 Trace will be available in over 70 languages (the Swype Beta for Android works with just the Latin alphabet, though they will add more in time). When exactly T9 Trace will be available and on which devices though is anyone's guess.
According to Nuance it should be pretty easy for OEMs to integrate it – it's a plug-in to T9 core software and shares its dictionary. They say this will reduce memory consumption and speed up the integration.