Your Nokia Lumia 1020 has a 41MP image sensor? That's cute – so does the Hyetis Crossbow smartwatch. Also, the specs sheet is so long it will make your head spin (and in the dizziness you'll wonder if this is just vaporware).

The watch has a Swiss-made movement and that's the only thing that will remain constant – Hyetis is promising to update the rest as time goes on.
At start (it's not entirely clear when that might be), the watch will have a high-res touch screen (but there's no exact resolution given) and will pair with your iOS, Android or Windows Phone handset over Bluetooth or Wi-Fi. There's NFC and a microphone too. All that's missing is LTE.
The thing that sticks out of the 12 o'clock position is the 41MP camera (not a typo). Then you have a biometric sensor in the wrist band. Inside is a GPS receiver, with a barometer (and a depth sensor, the watch is rated at up to 25atm/250 meters) and a thermometer.
UPDATE, October 23: ZEISS contacted us to clarify that the Hyetis Crossbow DOES NOT have a ZEISS lens.
The promised battery life is 4 days, which sounds near impossible for the form factor and all those radios. There are two rechargeable batteries somehow fitted into the wristband (which is the most ridiculously over-specced wristband ever) and a regular watch battery powers the watch movement (so it's not a mechanical watch). The watch is charged via wireless charging and takes "a few hours" to fill up the battery.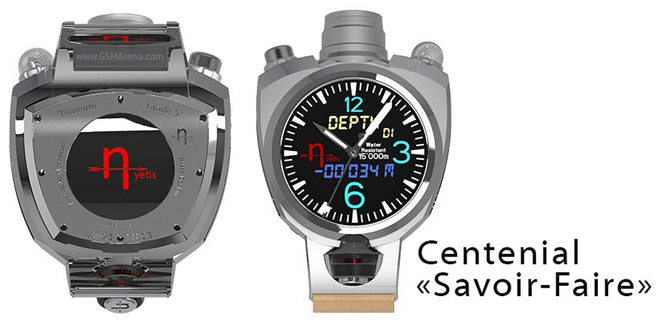 The casing of the watch is titanium and the touchscreen on the face is sapphire glass with antiglare coating.
The Hyetis Crossbow will soon be available for pre-order for $1,200 and should ship later this year. You'll have to be quick though, only 500 watches will be made initially, then Hyetis will try to do a customizable version of the watch a la Moto X (the bezels and wristbands are mentioned specifically).
You know what they say – if something is too good to be true, it probably is. But if Hyetis actually pulls it off, this will be one of the most impressive gadgets ever.