Earlier this is year, we heard that Project Natal would cost below 80 US dollars – skyrocketing its entertainment-to-price ratio to infinity. The Move controller for the Sony PlayStation, which supposedly has a similar price, but not much more coolness than the Wii controller.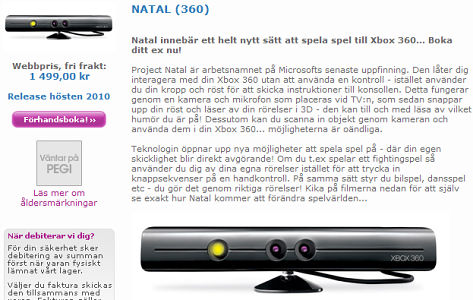 However, Swedish retailers have put up Project Natal on their site for quite a bit more than those 80 bucks that everybody hoped for…
The site itself acknowledges that Project Natal isn't finished, but they have already put a price on it – 1 499 Swedish kronor or 197 US dollars. They list the release date as "Autumn 2010", which is in line with the October launch date we heard earlier.
Another retailer also had Project Natal listed too (at the same price) but they seem to have pulled it down, so this could just be a mistake.
Also, there will probably be Xbox + Natal bundles, which would drive the overall cost down (there was even talk that Natal would be integrated into the new Xbox consoles at one point). Still, 80 dollars was probably a bit over-optimistic. There goes an affordable high-tech Christmas gift.
Source (site in Swedish)