Sony is in a very peculiar position in its high-end Xperia Z-lineup with a modestly updated Xperia Z4 model announced for its local Japanese market, which will apparently be sold globally as the Xperia Z3+. This leaves a new flagship to be expected later this year, with a designation that will likely cause some more confusion.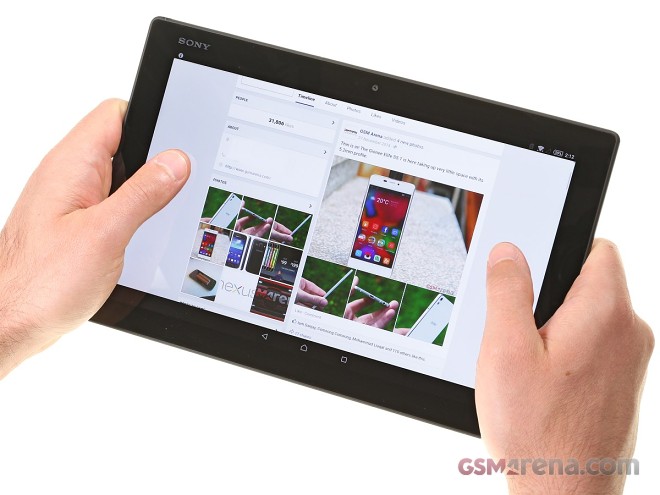 Meanwhile, it is the 10.1-inch Xperia Z4 Tablet that is left to defend the Z4 badge in markets outside of Japan. It should come as no surprise then that we were very excited when a review unit arrived at our door. We have the LTE variant, but for simplicity we'll drop the abbreviation for the following paragraphs.
The Sony Xperia Z4 Tablet doesn't take any chances with design, and is instead a typical OmniBalance device. It comes with the familiar Xperia Z-series looks, with a matte back that has so far been the main principal difference between tablets and smartphones in the range. It boasts IP68 certification too, for water resistance up to 1.5m over the course of 30 minutes – a long-standing selling point of Sony's high-end smart devices.
The full-size slate measures 254 x 167 x 6.1 mm, which currently puts it on top of the thinness chart, together with the Apple iPad Air 2. The difference in aspect ratio, together with the 0.4-inch advantage in screen size, make the Xperia Z4 slightly taller and marginally less wide. It is impressively light though, with the LTE model we have here weighing merely 396g, with a 6,000mAh battery inside.




Sony Xperia Z4 Tablet hands-on
Thanks to the low weight and thin profile the tablet is easy to handle but there's no escaping its sheer size, and for prolonged periods it's best held with both hands. It then becomes immediately noticeable that the speaker slits fall right underneath your palms, when the device is held in landscape orientation.
The slate boasts a 10.1-inch display with a 2,560 x 1,600 pixel resolution and that translates to ~299ppi, which you could go ahead and call Retina grade. The display offers nice colors and quite high brightness, but both suffer somewhat when viewed at extreme angles.
The Xperia Z4 Tablet is powered by the Snapdragon 810 chipset, together with 3GB of RAM – the standard choice of high-end hardware few 2015 flagships have strayed from. It's equipped with 32GB of storage, but if that's not enough, you can pop in a microSD card for expansion. An 8.1MP main camera sits on the back, though its use in a 10.1-inch remains a questionable subject. A 5MP front snapper is also present.
The Xperia Z4 Tablet is one of the first devices we have from Sony that runs on Android 5.0. The company has included their usual customizations, but Sony's overlay has always been among the lightest out there and the one on the Z4 Tablet is no exception. In an interesting turn of events, the Walkman branding is gone from the music player.
Stay tuned for our full review of the device, due to be out in the coming weeks.