Sony unveiled its first flagship for 2014, the Xperia Z2 smartphone. It revamps last year's Z1 with a bigger screen, 4K video recording, stereo speakers, a lighter body plus a number of changes under the hood.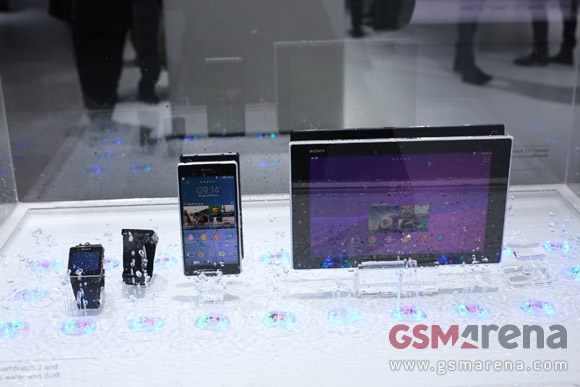 We got a chance to handle the device at the MWC grounds.
Hardware
The Sony Xperia Z2 closely resembles the Z1 (which is to say it's a looker), but it has a larger screen – a 5.2″ Triluminos display. The display has 1080p resolution, despite all the rumors of QHD screens at the MWC. The sharpness is great though and Sony has used the same tech for the screen as it does for its TVs.
The camera features a 20.7MP Exmor RS sensor and now Sony has enabled 4K @ 30fps video recording (aka 2160p). You can use digital zoom during video recording, but it remains to be seen if it's as good as Note 3′s.
Other new camera modes include 120fps slow-motion (at 720p resolution) and Background Defocus, plus Vine is pre-installed.
The Xperia Z2 runs Android 4.4.2 KitKat with Sony's customizations, which have gotten a reputation of minimal but functional changes to Android. More interestingly, Sony uses Qualcomm's brand new Snapdragon 801 chipset – a faster version of the already fast 800.




The Xperia Z2 little narrower and thinner than the Z1
Previous Sony Z phones didn't have the loudest speakers (the price to pay for water-proofing), but the Xperia Z2 features stereo speakers, so it should perform better.
Sony continues to use its long process of taking an aluminum slab and machining most of it off to create a thin, light chassis. The Xperia Z2 is 12g lighter than its predecessor. Here are the steps of the process:



Creating the Xperia Z2 body is a lengthy process
The larger screen led to a slight increase in size but that's only in the vertical dimension, the Xperia Z2 is 2.4mm taller than the Z1, but a hair narrower and thinner. As before, the body has an IP58 certification, so it can go as deep as 1.5m for half an hour.
The Sony Xperia Z2 comes with 16GB of built-in storage and a microSD card slot. The slots and ports are covered by flaps to prevent water damage.
Speaking of ports, the microUSB 2.0 port features MHL and can output 4K video – now all you need is a 4K TV to watch the videos you've shot in their full glory.
Xperia Z2 camera samples
The Xperia Z2 camera uses the familiar recipe from Z1 and Z1 Compact – 20.7MP Exmor RS sensor, 1/2.3″ big, Sony G Lens (f/2.0, 27mm wide angle). We couldn't take the phone outside, but we still captured a sample photo:
And we recorded a 4K video too. Here it is uploaded to YouTube. Keep in mind that your computer and video player need to be able to handle 4K video. If not, at least you can view the YouTube video at 1080p.
Xperia Z2 benchmarks
We had just enough time with the Z2 to run several of our usual benchmarks – this is our first encounter with the Qualcomm Snapdragon 801, so we didn't know quite what to expect. The Xperia Z2 chipset is clocked at 2.3GHz and has 3GB of RAM, so it should do well against other flagships. It's worth pointing out the device is still a month away from store shelves.









Running benchmarks on the Xperia Z2
We will repeat the benchmarks once we get more time with the Xperia Z2, but the GPU performance is quite impressive. The processor didn't top the charts, but performance is still very good.
AnTuTu 4
Higher is better
Sony Xperia Z2




34986

Samsung Galaxy Tab Pro 8.4




34016

Galaxy Tab Pro 10.1 (S800)




33996

Galaxy Note 10.1 2014 Edition





33198

Transformer Pad TF701T





32991

Galaxy Note Pro 12.2 (Exynos)





32796

Samsung Galaxy Note 3





31109

Samsung Galaxy Tab 3 10.1




24236

Sony Xperia Tablet Z




20216

LG Optimus G Pro




20056

Asus Nexus 7 (2013)




19131

Samsung Galaxy Note 8.0




17159

Google Nexus 10





12695

Samsung Galaxy Tab 3 8.0




9070
Geekbench 3
Higher is better
Sony Xperia Z1 Compact




2968

Samsung Galaxy Note 3




2937

Sony Xperia Z Ultra




2670

Sony Xperia Z1




2638

Apple iPhone 5s




2561

Sony Xperia Z2




2481

LG Nexus 5




2453

LG G Flex




2254

LG G2




2243

HTC One




1972

Samsung Galaxy S4 (S600)




1869

HTC One mini




887
GFXBench 2.7 T-Rex (1080p off-screen)
Higher is better
Sony Xperia Z2




27.7

Samsung Galaxy Tab Pro 8.4




26

Samsung Galaxy Note 3




26

Apple iPad Air




25

Galaxy Tab Pro 10.1 (S800)




25

Galaxy Note Pro 12.2 (Exynos)





22

Galaxy Note 10.1 2014 Edition





22

Transformer Pad TF701T





21

Asus Nexus 7 (2013)




15

LG G Pad 8.3





15

Google Nexus 10




13.9

Samsung Galaxy Tab 3 10.1




7.0

Samsung Galaxy Tab 3 8.0




4.0
GFXBench 3.0 Manhattan (1080p off-screen)
Higher is better
Sony Xperia Z2




10.1

Samsung Galaxy Note 3




9.7

Sony Xperia Z1 Compact




9

Samsung Galaxy Tab Pro 8.4




8.9

LG Nexus 5




8.5

Galaxy Tab Pro 10.1 (S800)




8.1

Galaxy Note Pro 12.2 (Exynos)




5.6

Galaxy Note 10.1 (Exynos)




5.6
GFXBench 2.7 T-Rex (on-screen)
Higher is better
Sony Xperia Z2




29.3

Samsung Galaxy Note 3




27

Apple iPad Air




21

Galaxy Tab Pro 10.1 (S800)




17

Samsung Galaxy Tab Pro 8.4




17

Galaxy Note Pro 12.2 (Exynos)





14

Galaxy Note 10.1 2014 Edition





14
SunSpider
Lower is better
Apple iPad Air





373

Galaxy Note Pro 12.2 (Exynos)





531

Galaxy Note 10.1 2014 Edition





569

Transformer Pad TF701T





606

Galaxy Tab Pro 10.1 (S800)




607

Samsung Galaxy Tab Pro 8.4




651

Sony Xperia Z2




952

LG Optimus G Pro





1011

Asus Nexus 7 (2013)




1150

LG G Pad 8.3





1190

Samsung Galaxy Tab 3 10.1




1233

Samsung Galaxy Tab 3 8.0




1366

Google Nexus 7




1703

new Apple iPad




1722

Samsung Galaxy Note 10.1




1891

Samsung Galaxy Tab 7.7




1953

Samsung Galaxy Tab 7.0 Plus




1992

Galaxy Tab 2 7.0




2253

Huawei MediaPad




2490