We met the Sony Xperia Z1 Compact at CES, but now we've lured it into our office and right in front of the camera. This handset promises to revitalize the small, but premium phone market, going against the grain of the phablets and near-phablet handsets that have become the norm forAndroid flagships at the moment.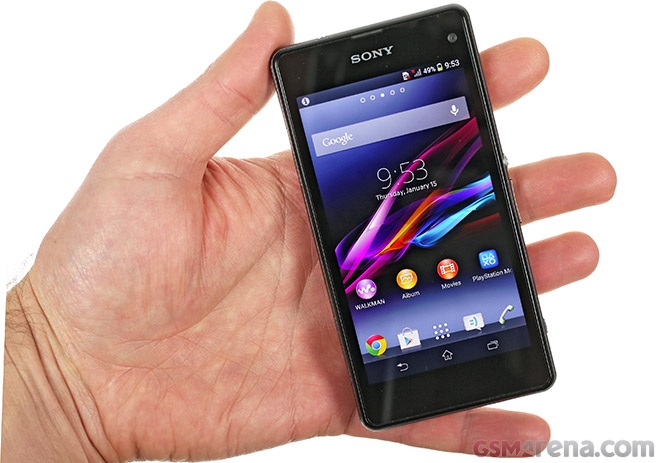 With a beautiful glass on aluminum frame design and compact dimensions, the Z1 Compact might be able to poach a few dedicated iPhone users. The waterproof rating and 20.7MP camera can't hurt either.
We called the design beautiful, but as with all pretty things it requires maintenance. With all that glass this, of course, comes in the form of wiping fingerprint smudges. Still, we have to hand it to Sony – despite having to make all the ports and slots water resistant, the company preserved the microSD card slot.
The 2,300mAh battery inside the device is a commendable achievement too, when Android minis of comparable size have 1,600-1,900mAh batteries. Yes, the Sony Xperia Z1 Compact is a bit thicker than we're used to these days at 9.5mm. That's a hair thicker than an HTC One, for example, and a millimeter thicker than the big Xperia Z1.
The thickness was unavoidable as besides the battery, the phone houses the same large 1/2.3MP sensor with Sony G Lens as its big bro. To give you a sense of how big the sensor is, it's the same size as most point-and-shoot cameras, Sony's QX10 lens-style camera and Samsung's Galaxy Camera (1 and 2) and Galaxy S4 Zoom.
The top-notch camera is backed by a Snapdragon 800 chipset, currently the best Android (and Windows Phone too) have to offer. This puts it on equal footing with flagships like the LG G2, the big Xperia Z1, phablets like the Z Ultra and Lumia 1520 and probably the first wave of 2014 flagships (Snapdragon 805 won't be out in time for MWC most likely).
This positions the Sony Xperia Z1 Compact as the king of Android minis, which typically settle for dual-core Snapdragons and previous generation cameras. The looks help a bunch too, here's a quick tour of the exterior and an overview of the software.
The pre-orders for the Sony Xperia Z1 Compact have already started in Europe and in the US, and we're focusing on the review so it'd be ready before the phone hits the stores.