The Sony Xperia Tablet Z had to cross a river to get to our office… okay, it didn't but it that wouldn't have troubled it thanks to its IP57 certification. That's not the only specs the Z tablet shares with the Z phone either, the slender OmniBalance design gives the tablet a unique look.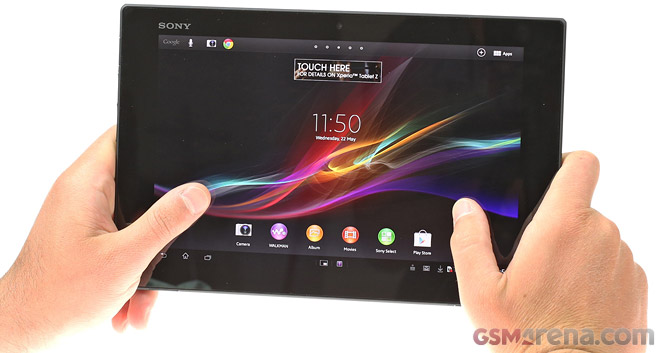 The Xperia Tablet Z is only 6.9mm thick and weighs under 500g, it's a pretty impressive device to hold in your hand.



Size comparison: Sony Xperia Tablet Z vs. Google Nexus 10
The front houses the 10.1″ WUXGA display (1920 x 1200 pixel ration), which has a slightly different aspect than the Xperia Z smartphone and 224ppi pixel density. That's not as sharp as the 299ppi of the Nexus 10 but not too much worse than thethe 264ppi of the new iPads. The Xperia Tablet Z also has very good viewing angles, unlike Sony's phones.
The tablet comes in two versions – Wi-Fi and Wi-Fi + LTE. We have the LTE version, which has a microSIM card slot next to the microSD card slot. Both slots are sealed by a plastic cover, as are the 3.5mm audio jack and the MHL-enabled microUSB port.
The Xperia Tablet Z takes after the Tablet S with a stock-looking Android that has been enhanced with things like Small apps. We did miss the Guest mode feature, which enabled multi-user support on the Tablet S as far back as Android 4.0 (native Android multi-user support came in 4.2).
Also, there's an IR emitter that can be used to control equipment at home. The cool thing about Sony's app is that it can learn the commands from the real remote control of the device.
The Sony Xperia Tablet Z also comes with a few other handy apps, check out a quick demo of them and the tablet itself.
The Tablet Z is powered by the same chipset as the Xperia Z phone – Snapdragon S4 Pro – and early benchmarks show it offers similar performance, keeping it close to the current crop of Android flagships and a bit ahead of the Google Nexus 10 in certain areas.
But more on that in the review, where we'll also cover the 8MP Exmor R camera with Superior Auto.