The Sony Xperia Tablet S left its Sony HQ home to spend some time with us. It carries over some design elements from its predecessor, like the 9.4″ WXGA screen and fold-over design, but it adds goodies like a quad-core processor (moving from Tegra 2 to 3), thinner aluminum frame and IPX-4 certification (splash proof).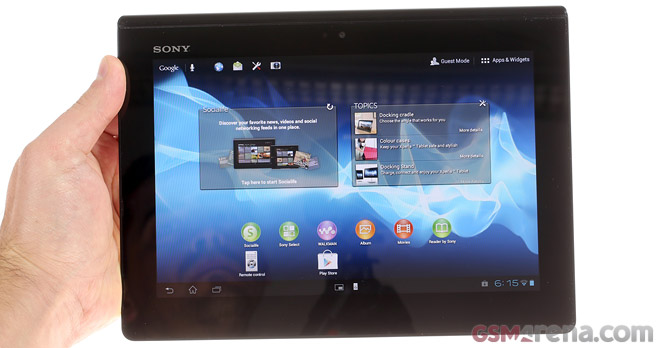 The Xperia Tablet S is 8.8mm thick along its back, with a thicker "fold" on top. This makes the tablet easier to hold in the hand and is used to attach the tablet to various accessories.
Sony gave us a suede cover to test, which also serves as a stand (it can hold the tablet tilted at two different angles). It snaps into place and will hold the tablet upside down, but we wouldn't shake it too hard. When you close it, you can use the elastic band to keep it shut.
The tablet is available in 16GB, 32GB and 64GB versions, but the 16GB one will probably be the most popular as there is an SD card slot. That's right, not microSD, but a regular-sized SD card slot, meaning you can expand the storage on the cheap.





Sony Xperia Tablet S in our office
The top of the tablet houses an IR port, so you can use the tablet as a remote control. The included app is quite powerful and can even learn new commands directly from a remote control, if your appliance isn't on the (quite extensive) list of presets.
The Sony Xperia Tablet S really feels like something intended for home use with the Remote control app. It even comes with a Small app version, so you can always switch the channel.
Speaking of Small apps, they are floating apps that take up only a part of the screen and can be used along side regular apps. You can see them in action in the video below.
We're doing our complete review thing on the Sony Xperia Tablet S, so stick around if you want to learn more on the slate.