Sony announced its second-generation tablet at its pre-IFA event – meet the new Sony Xperia Tablet S. It features the same 9.4″ screen (1280 x 800) and wedge design as its predecessor, but the has gotten both thinner and more powerful.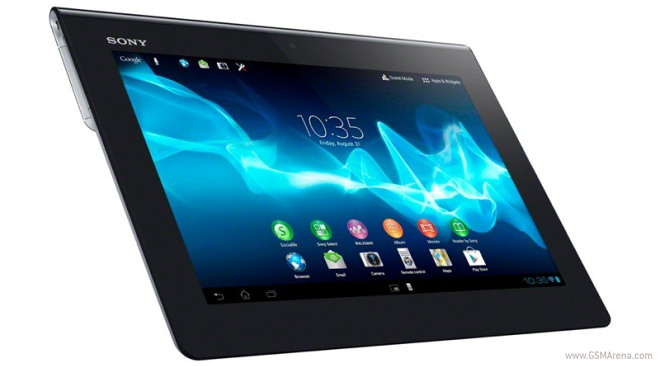 Where its predecessor was between 10.1mm and 20.6mm thick, the new one measures 8.8mm-11.9mm. The tablet is made from a Magnesium-Aluminum alloy and weighs 570g.
The new Sony Xperia Tablet S updates the chipset to Tegra 3 with a quad-core processor clocked at 1.3GHz and will, of course, launch with Android 4.0 Ice Cream. The tablet will have three options as far as internal storage goes – 16, 32 and 64GB – but since there's a microSD card slot, you can always expand the available storage, no matter which version you get.
On the back of the tablet is an 8MP camera and there's a 1MP front-facing camera as well. The tablet is powered by a 6000mAh battery, which Sony says is good for 10 straight hours.
The Sony Xperia Tablet S is compatible with a large number of accessories. One is a cover that doubles as both a keyboard and stand, similar to the Microsoft Surface cover.
Then there are two attractive metal stands, a portable stand that lets you easily adjust the angle and a regular looking cover that also doubles as a stand.