The Sony Xperia T, fresh from the IFA floor, has made its way into our studio.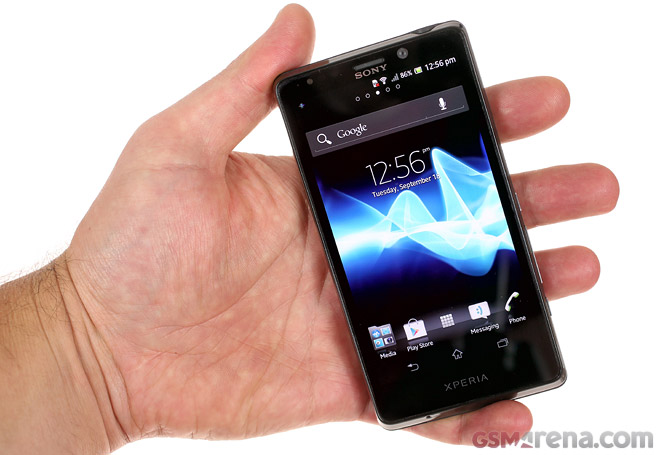 The new global flagship from Sony has plenty to offer, starting with its 4.5 inch 720p display and its 13 MP camera capable of 1080p video recording. Join us after the break for some studio shots and our unboxing and UI demo video.
Besides the big display and beefy camera, the Sony Xperia T also features a dual-core 1.5 GHz Krait CPU on a Snapdragon S4 chipset with Adreno 225 grahpics. There's 1 GB of RAM memory and 16 GB of internal memory, which is expandable by a microSD card. There's also a 1.3 MP front-facing shooter for video calls, capable of recording at 720p. All of this is powered by a 1850 mAh battery.
There's also a characteristic groove along the back which gives it a unique styling – something that's hard to come by in today's overcrowded market. The measurements of the Sony Xperia T are 129.4 x 67.3 x 9.4 mm, and it comes in at 139 g.
The build quality of the Sony Xperia T is very nice. The device features a nicely-textured backside which is pleasing to the touch yet resistant to fingerprints, while the curve in the device makes it a perfect fit for out hands. The cap over the microSD and SIM cards slots on the right side could use a little work, as it's a bit hard to close properly, and we can see it becoming problematic after lengthier usage.
The Sony Xperia T comes with Ice Cream Sandwich out of box, version 4.0.4 to be exact. It features some really cool additions to the Android interface, such as an updated Album app for pictures and Movies app for video files, which are a great improvement over the stock ICS ones. There's also integration for Google Play Books and Play Movies.
Check out our unboxing and brief software tour in the following video:
Be sure to check back with us soon for our full review of the Sony Xperia T.