We met it at CES this year, but now the Sony Xperia S is on our home turf. It's a huge leap forward compared to Sony Ericsson phones – it's all dual-core processors, 12MP still shots and FullHD videos.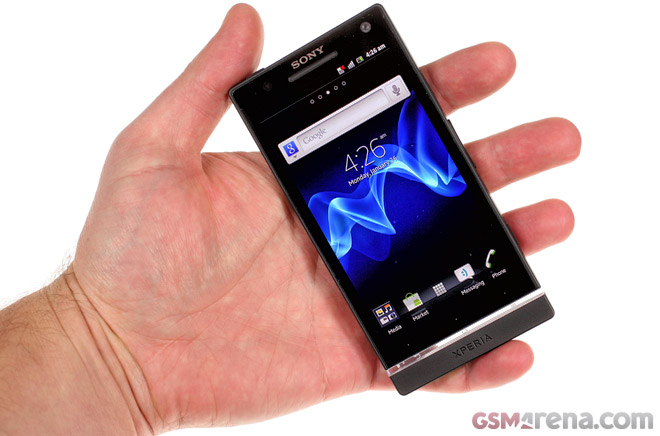 We had a bit of free time, so dragged the Xperia S right in our studio for a quick hands-on video.
The Sony Xperia S (along with the US-centric Ion) is the most powerful Sony Mobile phone (formerly Sony Ericsson) to date, with two 1.5GHz Scorpion cores, Adreno 220 GPU and 1GB of RAM.
Okay, that won't wow anyone nowadays but the screen might – a 4.3″ LCD with 720p resolution and BRAVIA engine. The pixel density is 342ppi, well over the requirement for the "Retina" label. The image on the screen is tack sharp with great looking colors and contrast.
The other point that should leave geeks drooling is the camera – it's one of only few 12+ MP cameras on the market right now. The Symbian-laden Satio has almost faded from memory, but the Xperia S puts Sony at the front of the imaging race yet again.





The Sony Xperia S held in hand • Retail box
The camera can record 1080p video too, thanks to the extra oomph from the dual-core processor. FullHD video capture is very rare among such high-res cameras (unless you're in China) and the Xperia S is one of the few lucky phones to have this highlight in their resume.
The software is currently Android 2.3.7 Gingerbread with updated customizations courtesy of Sony, but they are hard at work porting Ice Cream Sandwich. There are some other additions that we don't have the time to cover now.
The Sony Xperia S has a microHDMI port you can use to hook it up to HDTVs, but you'll need to get your own cable for that, there wasn't one in the box.
The Mobile World Congress in Barcelona will start in a few days, so the review might take a little longer than usual. But in the mean time, we'll get another hands-on opportunity during the Congress.