It's an Xperia party in our office we welcome Mr. P on stage – a sharp-witted, aluminum clad gentleman. He's a bit of a magician too, promising to show us WhiteMagic if we look at its screen closely enough.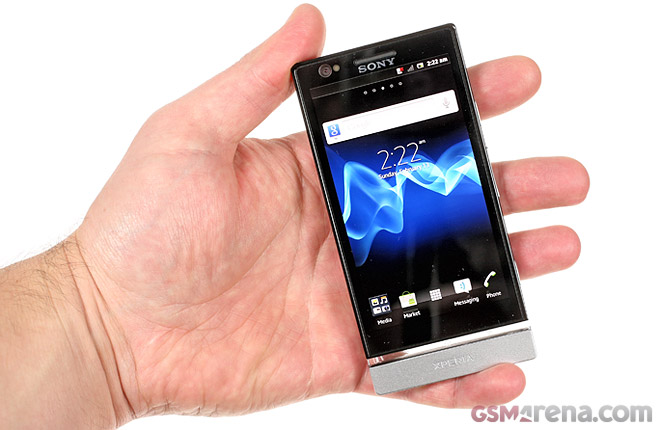 The Sony Xperia P has an aluminum unibody design styled after the NXT series design with an illuminated transparent strip. The other thing on the outside – the 4″ qHD Reality display – also makes it unique among Sony's current offerings as it contains a fourth white subpixel.
First things first – the Xperia P measures 122 x 59.5 x 10.5 mm and weighs 120g. That puts it between the Xperia sola and Xperia S in terms of compactness. The metal unibody gives the phone a solid build quality with a premium feel.
The 4″ screen solidifies the Xperia P's middle ground position. It has qHD resolution, which gives it 275ppi pixel density, which in our experience is just about enough for a sharp image. Each pixel on the screen has four subpixels, instead of the traditional three.
That pixel glows in pure white and serves to make the display brighter, while supposedly keeping power consumption low. Our initial impression is that while the brightness is good, the contrast may have suffered as the blacks appear to glow more than usual.
Anyway, the Xperia P is powered by a NovaThor U8500 chipset with two Cortex-A9 cores clocked at 1GHz, 1GB of RAM and a Mali-400 GPU. The customized Android 2.3 Gingerbread feels very snappy with this hardware setup.
Wait, what? Android 2.3? Yep, the current Sony Xperia droids are stuck with the older OS for now, but an ICS update is on its way (it already hit older models, the ones by the former Sony Ericsson).
The Sony Xperia P has 16GB of built-in memory and just like the Xperia U, it's not expandable. Still, 16GB should be enough for most users and is as much as the HTC One S offers.
The battery isn't user-accessible either, so to access the SIM card, Sony put the slot on the side of the phone and covered it up with a flap. Next to it are the microHDMI and the microUSB ports.
It's refreshing to see an HD TV-Out port that doesn't require an adapter, like the MHL ports on most TV-Out-enabled droids. The hardware shutter key is a welcome break from the typical Android phones out there.



microHDMI port and hardware shutter key are welcome features
The Sony Xperia P has to step down now as other phones are waiting their turn to come up in the spotlight. We will be doing a full blown review afterwards though, so stay tuned.