The Sony Xperia M2 Aqua was announced only recently and as the name suggests, it's a water-resistant version of the Sony Xperia M2.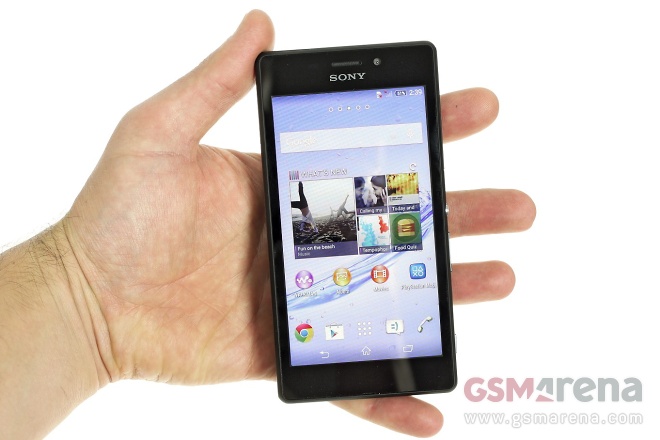 Mostly this is the same phone but there are some differences which we'll discuss here. For starters the phone now offers IP68 certification for staying in up to 1.5m deep water for 30 minutes and it's fully dust proofed.
The hardware remains unchanged – there's a Snapdragon 400 chipset with a quad-core 1.2GHz Cortex-A7 processor, Adreno 305 GPU and 1GB of RAM inside. The screen is the same size and resolution – 4.8″ 540 x 960 with 229ppi but is an IPS unit this time around. The camera remains the same at 8MP and video recording is the same too at 1080p. The battery is also unchanged – 2,300mAh.
However while the Xperia M2 launched with Android 4.3 Jelly Bean, the Aqua has 4.4.2 KitKat right from the get-go, complete with transparent status bar and navigation buttons, Sony's What's New is available as a neighbor to the Google Now shortcut and there are now hidden slide-out menus on the left to all Sony multimedia apps – Album, Walkman, Movies.
Here goes a run through of the Sony Xperia M2 Aqua.
Hardware-wise there have been very slight changes. The IP certification warrants some water-repellent flaps to cover the MicroUSB port and 3.5 mm headphone jack leaving no controls or ports exposed to liquids. The thin LED strip under the display is gone too and there's only the notification LED above the display. The back panel is no longer a glossy glass-like plastic but a matte, frosted-glass like surface that we much prefer.
The Sony Xperia M2 Aqua feels mostly the same in our hands – a bit cumbersome for a below-5-inch device. It's a little broader and a lot taller than a Nexus 5. Weight is dangerously close to 150g but overall we don't see the Xperia M2 Aqua as too big.
Sony would've done the Aqua a great favor if it had included a 720p screen panel to help it fight the Moto G and others out there but the screen size is still a good enough point, we guess. Stay tuned for our Xperia M2 Aqua review, which should be out in a few short days.