The Sony Xperia M is the company's next entry-level dual-core phone. It shares many of the features of the Xperia L but is positioned lower on the ladder with a smaller, 4″ screen (but with the same FWVGA resolution), same chipset and a 5MP / 720p camera.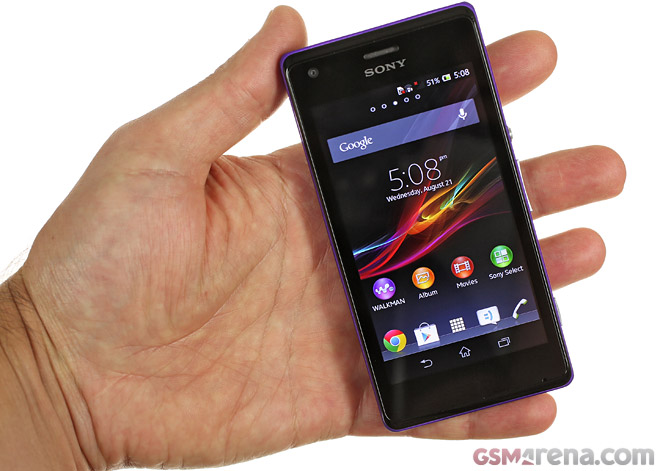 The Xperia M has a dual-SIM option, making it an direct upgrade over the Xperia E (which also came in single and dual-SIM versions) and it's a huge improvement over it.
The Xperia M is fairly compact – 124 x 62 x 9.3 mm big and weighs 115g. The back panel is made of a really nice soft touch finish plastic and can be removed to access the battery and card slots – one microSD and one or two microSIMs. The design of phone follows the OmniBalance design language which unify the Xperia brand – an angular frame with the trademark aluminum button (meant to resemble the crown of a luxury watch).
The phone is powered by a Snapdragon S4 Plus chipset with two 1GHz Krait cores and Adreno 305, which is a welcome departure from the quad-core Cortex-A7 or A5 designs. Those have become popular with entry-level phones as they allow makers to promote a large number of cores, but don't come close to Krait's processing power. The Xperia M runs Android 4.1 with Sony's customizations, which bring some good stuff (notification area toggles, Small apps, Backup app) but some nuisances as well (some apps you probably don't need, some limitations for the homescreen, etc.).
Compared to the Xperia L, the M has a smaller screen (4″ vs. 4.3″), lower-res camera (5MP vs. 8MP, but both top out at 720p video) and less built-in storage (4GB vs. 8GB, with the system reserving about 2GB). It keeps NFC connectivity, the 1,750mAh battery, RGB notification light and good multimedia apps.
Sony has also announced the Xperia C dual-SIM phone, but that one is big (5″ screen, 141.5mm tall and weighs 153g). The Sony Xperia M offers a more compact alternative, while also helping fill in the compact Xperia lineup, which was getting pretty stale with only the Xperia E (powered by a single Cortex-A5 core).