The Sony Xperia E3 is Sony's cheapest LTE smartphone on the market. It packs the usual set of characteristics for a lower-midrange smartphone, including a Snapdragon 400 chipset, 1GB of RAM, 5MP snapper and a 4.5″ 480x854px display.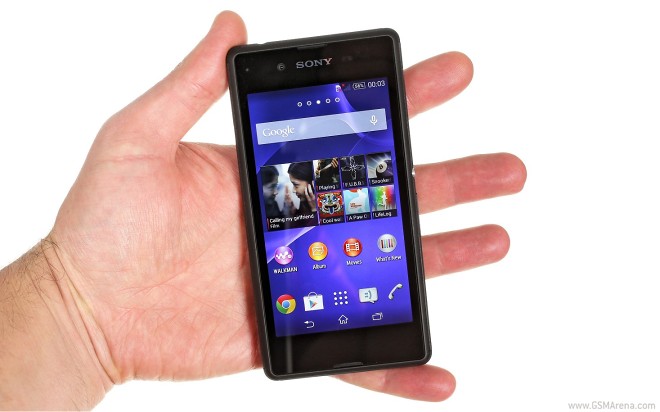 The design isn't as bland as the market position might lead you to believe – Sony has gone with a blend of the Xperia M2 Aqua and Z3 Compact and added four color options, including Yellow and Copper.
The Sony Xperia E3 runs on the company's custom take on Android 4.4.2 KitKat with the multimedia bundle of Walkman, Album and Movies and a set of Xperia themes and icons. Here's a quick rundown of the Xperia E3 in action.
Qualcomm's Snapdragon 400 has proven itself as capable of handling Android KitKat well and without hiccups. The Xperia E3 flies through menus and apps without breaking a sweat.
The phone itself feels sturdy and well built. Sony relies on matte plastic with a textured finish on the sides that enhance the grip. The edges of the Xperia E3 follow the design scheme brought on by the Xperia Z3 Compact only instead of aluminum or transparent nylon all you get is plastic. The corners of the sides are made of rubber and should dampen the impact should you drop the Xperia E3 on a hard surface.
The display isn't overly impressive in resolution. The 4.5″ diagonal warrants a 720p resolution as standard if you want to avoid seeing pixels. At around 218ppi things are sharp enough from a distance but you will notice the unimpressive sharpness if you load up a webpage (such as our own).
Colors look good and the IPS panel doesn't give away too much contrast when viewed under an angle.
Sony claims the battery of the Xperia E3 should be able to last for two days on a single charge. In our testing we found it to be capable of its claims but we'll dig deeper in a separate article.
As usual there is a lot more to cover so stay tuned for our review next week.