We managed to get our hands on yet another hot device at the IFA floor. The newly announced Sony VAIO Duo 11 was the latest hybrid ultrabook to stand in front of our camera.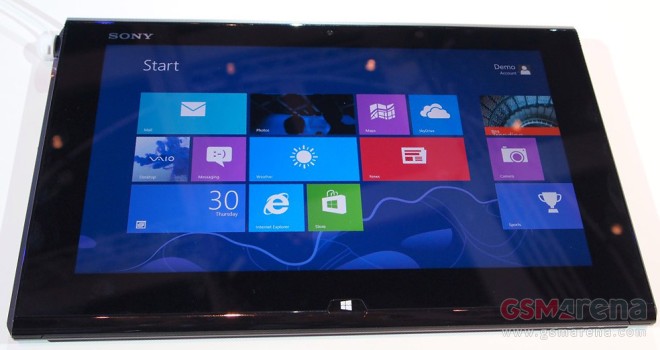 Join us as we take a look at the latest attempt to merge laptop and tablet by Sony.
The VAIO Duo 11 certainly boasts some impressive specs for such a compact package. Inside, there is a 256GB SSD hard drive, Intel Core i7 processor, Intel HD graphics 4000 GPU, and either 4 GB or 8GB of RAM. The 11 in its name stands for the 11.6-inch display, which is an impressively bright OptiContrast display of 1080p resolution.
The device itself feels solid in terms of construction, and the 1.3 kg of weight make it pretty comfortable to carry around. The unlock mechanism is rather stiff, being of the kind that lifts and snaps rather than slides. The keyboard is of very high quality and despite its compact size is very pleasant to use. The keys have a good resistance and the capacitive pointing stick in the middle of the keyboard works very well.






The keyboard and pointing stick have good responsiveness and usability
The VAIO Duo 11, like most of the Windows 8 laptops revealed at IFA this year, will be released in late October after Windows 8 goes official. No word on pricing as of yet, but we expect to see some official numbers the closer we get to launch.
Be sure to check out our full coverage of the Sony IFA event here.