The recent trend smartwatches has been popularized in part by Sony, who have already seen enough time go by since their first iteration to see a SmartWatch 2 device to market.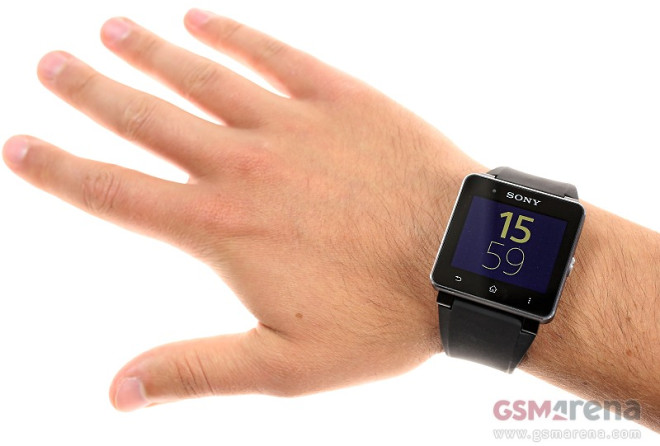 The SmartWatch 2 features a stylish Xperia-inspired design complete with color touchscreen, and aims to compete directly with the likes of the Samsung Galaxy Gear.
As is the case with smartwatches in this early generation, almost no review on the topic can go without the preface that these devices serve primarily as extensions of smartphones, allowing you mainly to view notifications on your wrist and providing some basic controls. Perhaps one day we'll see them take on the more pronounced role of miniature, wrist-worn smartphones, but for now they're still relegated to companion devices.
Hardware
The SmartWatch 2 features a 1.6-inch Transflective LCD display of 220 x 176 pixels resolution. Incidentally, the transflective LCD display is also the type found on the Pebble, except that on the SmartWatch 2 it is color and touch enabled, and features a significantly brighter backlight. Sony has rated the battery for 7 days of low usage, and 3-4 days of normal usage, although it's not really clear what constitutes low or normal usage.
The watch comes in at the rather large-ish dimensions of 41mm x 42mm x 9mm, while the weight comes in at 122.5 grams. The unibody is made of aluminum which has an IP57 dust and water resistance rating, while the wrist strap is silicon with a stainless steel clasp at the end.
On the right you'll find the SmartWatch 2′s only hardware button, while the left side contains the microUSB port covered by a plastic flap. This flap should stay closed if you aim to take advantage of the watch's built-in water resistance. The back is also sealed against water intrusion.
The hardware package is a square plastic box surrounded by thin cardboard packaging. Inside, you'll find some leaflets and a short microUSB cable for charging.
In terms of design, the SmartWatch 2 takes after Sony's Xperia line of smartphones, and complements smartphones such as the Sony Xperia Z1 nicely. The silicon strap is replaceable like on most watches, and Sony sells a model that includes a black stainless steel strap as well.
Software
The SmartWatch 2 connects to your smartphone via Bluetooth 3.0, and works with any Android device version 4.0 (ICS) and later. For quicker syncing, the SmartWatch 2 also offers NFC pairing.
Initial paring can be quite a chore, especially if you don't have Sony's Smart Connect app pre-installed (as only Sony Xperia smartphones do). Once that's done, you have to pair your device to the phone, which can be done more quickly with NFC than solely through Bluetooth.
Once that's done, your work still isn't finished. In order to get full functionality from your device, the SmartWatch 2 requires you to install additional "smart extensions" for whatever you'd happen to need. Want to see Gmail notifications on the SmartWatch 2? Install the Gmail extension. Want to connect your Twitter account? Install the Twitter extension. For everything all the way down to messaging and call handling, you have to install a specific extension to smart connect. And keep in mind that most of these features are advertized as ready to go out of box by Sony.
You can also use the Smart Connect manager to create tasks where the SmartWatch would perform a specific action, like turn on silent mode, whenever a specific condition is met.
Beyond that, the functionality offered by the SmartWatch 2 is is fairly straightforward. It offers a selection of several watchfaces, and the screen dims very quickly in order to save on battery life. There are a couple apps that don't require a phone, but they just cover the basic watch functions – there's an alarm and a timer. There's a flashlight app too, but don't expect much out of the small screen.
Installing apps (or "smart extensions") makes them appear on the scrollable homescreen panes, and hitting them will open up the relevant app. Whenever you get a notification, it will appear on the screen alongside a vibration alert. The SmartWatch 2 supports all types of notifications, including SMS, email, alarms, events, Facebook, Twitter, and much more. There are even ways to use the SmartWatch 2 as a fitness tracker, or look through your phone's camera viewfinder on the screen. The options are endless.
Finally, there's a short settings menu that lets you adjust things like screen brightness, vibration alerts, and which apps are active, and there's a built-in setting that allows you to protect your device with a PIN code.
Conclusion
As we said in the beginning, the usefulness of the SmartWatch 2 is limited by what it can achieve primarily as a companion device to a smartphone. That's currently the extent to which smartwatches are able to function due to technological limitations, so it's important to temper your expectations.
Looking at it compared to other smartwatch offerings, the SmartWatch 2 does have its share of advantages and drawbacks. Compared to the likes of the Pebble, the SmartWatch 2 has a more robust screen that's also color and touch-enabled, which means that it has a wider range of capabilities when it comes to applications. While it doesn't have the Pebble's standby capacity, it does come partway there and has a better screen to boot.
Although it is better than the Pebble's, the screen is significantly inferior to that of the Samsung Galaxy Gear's, which is of 320 x 320 pixels resolution while being the same size, and is a Super AMOLED to boot. When comparing the latter two, it really comes down to a trade-off between suffering through blocky text and seeing individual pixels, and getting more than a day's battery life.
Then it comes down to the price. The SmartWatch 2 currently retails at above €200, as does the Galaxy Gear. Although the design and build quality is high, the technology is simply not robust enough to justify that price point. The Samsung Galaxy Gear has more features, while the Pebble is significantly cheaper than both devices, so Sony will have to do some serious thinking on how to make the SmartWatch 2 more appealing. Perhaps third time will be the charm when it comes to the Sony SmartWatch line.