Sony's SmartBand SWR10 is what you'd call a life logger, a fashionable band, a music/camera remote, and vibrates on notifications. It collects motion data and logs everything within a dedicated app on your Android smartphone.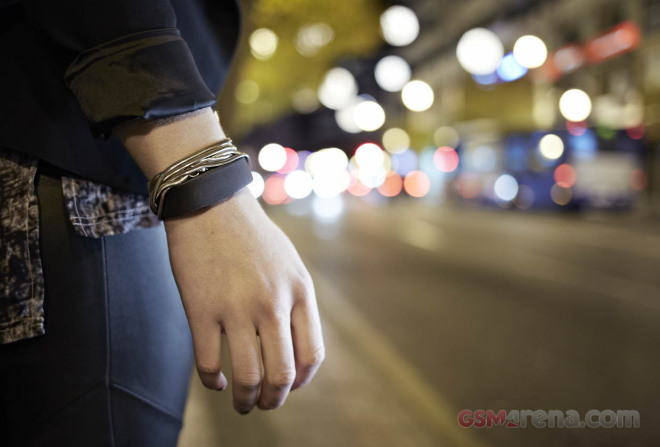 Despite what the product name may have you believe, the Sony SmartBand is not meant to be a smart personal assistant. It's an unobtrusive device with exchangeable wrist bands to match your style and blend seamlessly with any other accessories you might have.
And no, it doesn't have a display, but the lack of one doesn't get in the way. There are three small status LEDs and it communicates with you with vibrations.
If someone two years ago had told me that wearable wrist gadgets would be making the headlines so often today, I probably would had laughed. It seems though that these devices have tapped into some sort of an unfulfilled need for many people and their connection to the smart portable devices in our lives make them all the more useful.
The smartwatches have become very popular in no time and the demand for fitness bands has became even bigger. That's why today Samsung has the Gear Fit band, Razer has the Nabu Smartband, Polar has Activity Tracker Loop, and Sony has released the SmartBand, and so on, you get the idea.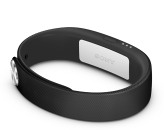 Sony SmartBand official pictures
Retail package
Sony SmartBand is currently available in two flavors – Black and Brazil Edition. Each of those options comes in a compact package with two rubber bands – S and L sizes, the SmartB
and's water-proof core, and a short microUSB cable for charging. You can buy additional rubber bands in white, yellow, purple and pink colors.
Hardware overview
The smart part of the band is a small plastic waterproof core with three LEDs and a single key. You can easily pop the core in or out of the rubber band. It is IP58-certified, works via Bluetooth 4.0 LE, supports NFC pairing, and comes with a standard microUSB port for charging. The core unit is based on an ARM Cortex-M0 controller, with 16KB RAM and 256KB embedded memory. The tiny battery has capacity of 35mA and according to the manufacturer that battery should last it about 5 days.
I had the SmartBand around for about 15 days and I only had to charge its battery twice so far, so we can confirm it can even outlast the manufacturer's specs.




The plastic waterproof module and the rubber band
The band's core module weighs only 6g, while the rubber band is about 20g. This makes the SmartBand one of the lightest smart wearables we've seen so far.
Connecting the SmartBand
The SmartBand requires a smartphone running on Android 4.4 KitKat or later and support for Bluetooth 4.0 LE or later. It is very easy to pair via NFC, but you'll have to install three apps after that – SmartBand SWR10 utility (it's like a driver, not an actual app), Sony Smart Connect and finally, Sony's Lifelog app.
Sony Smart Connect app is where you'll find all SmartBand settings – the Auto Night mode on/off switch and customizable interval, the notification picker, the smart alarm hours, alerts, and connected applications. The latter allows you to download plugins, which activate with a series of taps on the band itself.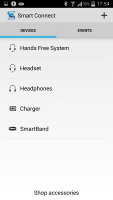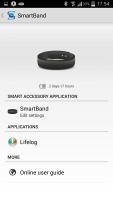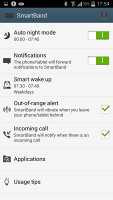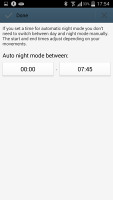 Smart Connect app with SmartBand Settings
The Lifelog app is where all the data from the band goes – steps, life bookmarks, activity (sleep, walk, run). We'll get into details about its capabilities in a bit.
Using the SmartBand
Enough with the technical details. Let's see what the Sony SmartBand is like in action. Once you are done connecting the band, configuring your usual sleep cycle and alarms, plus selecting the notifications you want to receive – you are all set to start using your brand new SmartBand.
The first and most important function of the band is collecting motion data – it counts steps in Day mode or tracks your sleep cycles in Night mode. All this data is synced with the Lifelog app on your smartphone.
For your sleep, one option is to rely on the Auto Night Mode, which is not as automatic as you'd guess. In this mode it merely uses the sleep times you have predefined in the Smart Connect's Setting. Another option is to turn the Night Mode on/off manually with a click and hold on the SmartBand's key.
The second feature of the SmartBand besides tracking your motion data is the ability to notify you for various events on your smartphone with vibrations (and the three side LEDs). You can pick the notifications you want to receive from the Smart Connect app – incoming calls, messages, mails, social networks, among others. Whatever app on your phone supports push notifications, you can select your SmartBand to vibrate on those, too.


The three small LEDs next to the key
You can even set a smart alarm from the Smart Connect app. You select a time interval – let's say from 7AM to 7:30AM, and your SmartBand will wake you up with vibrations when you are sleeping the lightest in this time interval.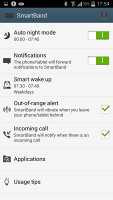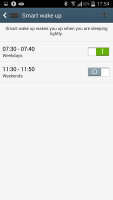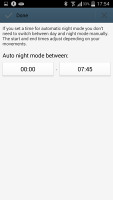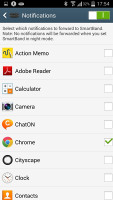 SmartBand settings • Smart wake up • Automatic night mode • Configuring notifications
Finally, Sony SmartBand allows you to perform certain actions by tapping on the band itself. There are a few plugins you can download from the Play Store that integrate with the Smart Connect app and are SmartBand compatible – Camera, Music player, and Find phone.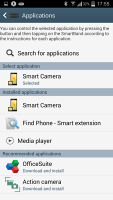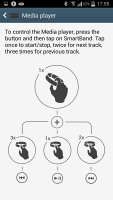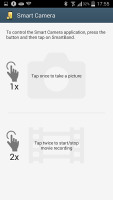 Choosing an application plug-in
If you opt for the Camera SmartBand plug-in, you will be able to use your band as a remote camera shutter. To activate the tap sensitivity, you need to short press the band's key. Then a single tap will take a picture, while a double tap will start/end video recording.
If you chose the Music player function, you will be able to control your default music player app with taps. Press the band's key then tap once to play/pause a song, two taps for the next song, or three taps to go to the previous track.
The Find phone plug-in allows you to search for your phone – tap once to sound an alarm and tap twice to stop doing it.
In case you move out of your phone's range, the SmartBand will vibrate three which means you've lost the connection.
The Lifelog app for Android
Sony's Lifelog app is where all the magic happens. All motion data from your SmartBand goes here and gets converted into steps, distance, sleep hours, burnt calories. The app basically tracks and records all of our activity – in addition to the steps, walking/running/sleeping hours, it also saves time spent on communications, taking/browsing pictures, listening to music, watching videos, playing games, reading eBooks, and web browsing.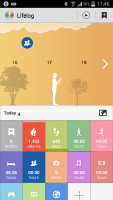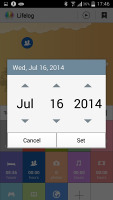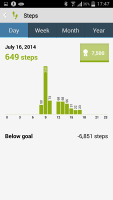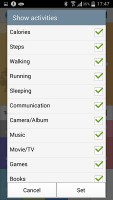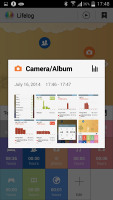 Lifelog • Counting steps • disabling activities • taping on a bookmark reveals more info
You can set daily goals and track your progress for each category – i.e. 2000 burnt calories, 1500 steps, 60 min running, 8 hours sleeping, 30 min listening to music, etc. There are nice infographics visualizing your daily, weekly, monthly and yearly activity for each category. By the way you can disable categories (activities) you don't need.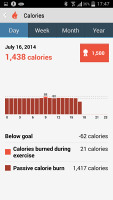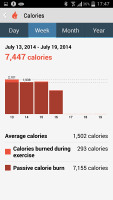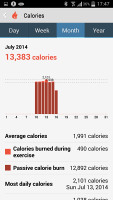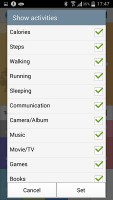 Calories view with daily, weekly, monthly and yearly statistics • disabling activities
The Lifelog apps also uses your GPS location and records your route each day. It is visualized on a Google Maps-powered UI and you can see each day where you have been. You can choose how the logger works – battery saving (Wi-Fi and cellular location) with less accuracy or high accuracy with heavy GPS usage. You can turn it off, if you like, too.
Lifelog also offers Life bookmarks – you can add such with a long press on your SmartBand key and fill the bookmark details later on your phone. Or you can add those life bookmarks manually from within the app. You can input the event's description (won the lottery, got engaged, got your driver's license, etc.), but Lifelig will also save the time stamp, date, weather conditions and accurate location.
Finally, all the data collected is visualized on an interactive slideshow at the top of your Lifelog app. You can either manually scroll through it or hit the Play button and relive any day of your tracked life.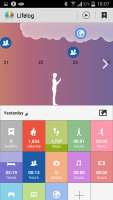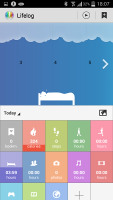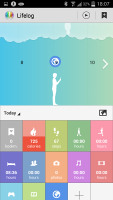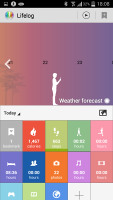 Slideshow of your daily routine
Conclusion
The Sony SmartBand is very interesting and unique accessory. I guess that the people who love to go for a jog, or hit the gym/swimming pool regularly, or at least try and keep up some sort of an active lifestyle, will definitely appreciate the SmartBand and its Lifelog companion app and the available statistics. The media and camera remotes are definitely a nice touch, while the vibrating notifications are really helpful. A positive thing is that you don't need your smartphone to be in range in order for the SmartBand to log your motion data. Also, the SmartBand and its Lifelog app is not confined to using only with smartphones made by Sony.
On the downside, you can only use the Sony SmartBand with Android smartphones, and only ones running Android 4.4 at that. Not to mention the only app it can sync its data to is Sony's own. Also, the SmartBand is not really a fitness tracking band per se because the Lifelog app doesn't allow you to log your food/calorie input.
Essentially, the Sony SmartBand is neither a lifelogging device (as it lacks a camera) or a fitness logging device (as the Lifelog app doesn't let you input calorie intake and the band won't sync to any other fitness app).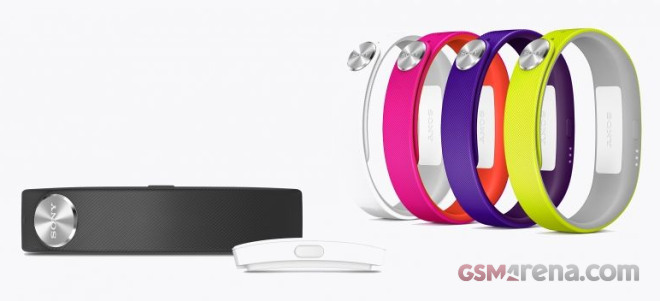 As always, it's always better to scan your other options as well. Polar's Loop Activity and Sleep Tracker is a few bucks more expensive than Sony's SmartBand, but it comes with a display of 85 LEDs and is both Android and iOS compatible.
FitBit Flex has been around for a while and is supported by lots of third-party apps. There are lots of available exchangeable bands and it can sync with a plethora of iOS, Android, Mac and PC devices. It costs more than the Sony's SmartBand and it lacks the remote control options and the notification functionality.
Then there is Garmin's Vivofit. It comes with a display and can be even paired by company's heart-rate sensors (sold separately). It does cover all fitness functionality of the SmartBand, and it comes with exchangeable coin batteries that are supposed to last for about a year.
Nike's Fuelband SE, the company's second generation band, covers the basics as well – it can collect motion data, it supports real-time sync, there is a cool LED interface that notifies you about your goals, and its mobile app has a really cool and useful interface. It works with iOS and a limited set of Android devices, but it also lacks notification buzzer and we are not quite sure about the remote functionality.
Finally, Bluetooth-enabled Jawbone Up costs twice the Sony SmartBand but the version that syncs via cable only sells for about the same price. In addition to interpreting the motion data, its app also supports food input, which gives you a more accurate calories balance calculation. The band is supported by other third-party apps, but it has no LEDs, display or vibration motor. It's just an accessory that collects motion data and nothing else.
The wearables market is rapidly expanding, but still many manufacturers are experimenting with the feature mix until they understand what people really need. Thus the massive diversity on the market today.
Overall, given the current asking price of about 50-60 euro, the SmartBand is really a fair deal for what it offers. It's the cheapest activity tracking connected device you can get from a major manufacturer and if you are not put off by the few downsides that we found, we are sure you'd be quite happy with it.