Headphones have been the staple of many a smartphone retail package for quite some time now, so when a manufacturer decides to throw in a premium offering into the mix, we had to take notice.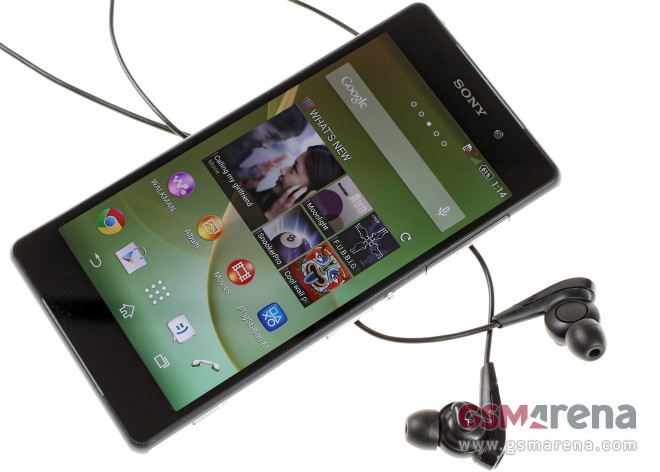 The Sony MDR-NC31E digital noise cancellation headset is packaged as part of certain Sony Xperia Z2 premium bundles, and are designed to take advantage of the smartphone's built-in noise cancellation features to offer a very robust listening experience. Join us as we take a brief look at just how capable they are in our latest flash review.
All about it…
The Sony MDR-NC31E Digital Noise Cancelling Headset is rated for a frequency response of 20Hz – 20000Hz. It features 13.5 mm dynamic speakers and has an nominal impedance of 31 Ohms. There is an included EC microphone and the connector is of the standard 3.5mm 5 pole variety.
The Sony MDR-NC31E takes after the Sony NC13 headphones, which came out in 2011 and had active noise cancellation built-in. With this new model however the noise cancelling feature works only when you connect them to on the Sony Xperia Z2 and Sony Xperia Z2 Tablet, which both have built-in digital noise cancelling (DNC) technology that works only with the MDR-NC31E and other Sony DNC headsets. Of course, the headset will work on other smartphones and devices with 3.5mm audio ports, but without the noise cancelling function.
Sony prides itself as being the only manufacturer to incorporate DNC technology into its flagship, but like we said, only Sony DNC headsets will be able to take advantage of it.
The headset samples surround sound through a built-in microphone, which is then compensated by the DNC circuit in the Xperia device you've plugged it into. Sony claims that his reduces up to 98% of ambient noise by creating an inverted anti-sound sine wave.
Using it…
Plugging in the MDR-NC31E into a Sony device reveals a few special options that you won't see with other headsets. First, a noise cancelling prompt appears as a permanent fixture to the notification area. From there, you can specify whether you want noise cancellation to be enabled/disabled, or active just while you're playing music. We're assuming the Always on option will drain a bit more battery.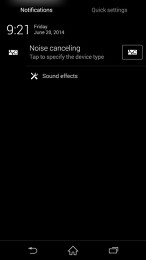 A prompt appears in the notification area whenever you plug in the headset
Through the Sound effects settings of the music player you can specify what your current noise environment is – Bus/Train, Airplane, or Office. The latter is very useful for when you need privacy in a noisy workplace or conference.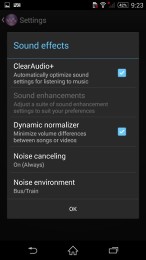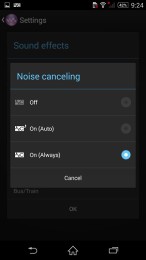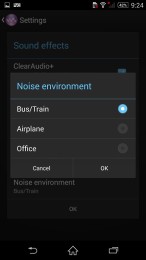 You can select your sound environment in the Sound settings
Loving it…
One of the best things about these headphones is that for many users they will come bundled with a smartphone – another way of saying they are almost like bonus. And getting a noise-cancelling headset as a bonus with your phone is really something to cheer about.
The noise cancellation effect is immediately noticeable once you put the headphones in, and adjusting it to the different environmental settings also makes a difference. The quality of noise cancellation is actually not as bad as the digital noise cancellation moniker suggests.
We put the noise cancellation to test by comparing the headset directly to the premium Phiaton Chord MS530 over-the-ear headphones. Now, the Phiaton Chord MS530 headphones have active noise cancellation built-in and subjectively they really offer a more natural noise cancellation experience, but still, the Sony's earbuds did a fine job nonetheless. Especially considering the almost tenfold price difference.
As far as the actual sound quality goes, the Sony MDR-NC31E allowed us to hear bass as low as 20Hz, while going all the way to around 19,000Hz in the higher frequencies. The headphones also had good dynamic range, and provided great overall sound – comparable to that of our Apple EarPods that come bundled with iPhone 5-and-newer devices. The Sony headset had even deeper bass than the Apple EarPods, due largely to the fact that they were able to comfortably go deep into the ear canal.
What we also liked about them is that just as with active noise cancellation headphones, you can plug the MDR-NC31E in and enjoy the ambient noise cancellation even without any content running on your phone.
Although the headphones feature a somewhat unconventional "sticking out" design compared to other in-ear headsets, they are very comfortable to wear and easy to take out thanks to the same protruding area. They also fit adequately far into the ear canal to provide good sound without feeling uncomfortable. This design does have its downsides, however.
Hating it…
While the protruding design does have its advantages, one major flaw is that it does not let you lay your head comfortably on your side while using the headset. If you're a using them while lying on your side, as it would uncomfortably jam the earpiece uncomfortably deep into your ear.
The fact that the noise canceling feature would work only on the Xperia Z2 and Z2 Tablet is extremely limiting the potential uses of these otherwise excellent headphones. If you are buying them separately, they would make for a reasonable buy only if you already own a Sony Xperia Z2 smartphone or tablet.
While the sound cancelling feature is top notch, the actual audio fidelity of the MDR-NC31E headset cannot match premium over-the-ear offerings. Also, we would have liked a cable of the flat, no-tangle variety, rather than traditional tube-like type.
Wrapping up…
If you want to have a capable noise cancelling headset without looking like like an airplane pilot, the Sony MDR-NC31E provides all that in spades. It has excellent noise cancelling capabilities alongside audio quality that rivals some top manufacturers. Best of all, when bundled with a new smartphone, it's really a deal none of the other flagships can beat. As long as your flagship of choice happens to be a Sony Xperia Z2, you'd hardly find a better match than the Sony MDR-NC31E.