Realism in gaming has been a goal of many a game developer for a long time. Advancements in graphics, surround sound and force feedback have all been steps towards better drawing a player into the gaming experience, but as of late we've seen some bold new attempts, trying to take this concept to the the next level.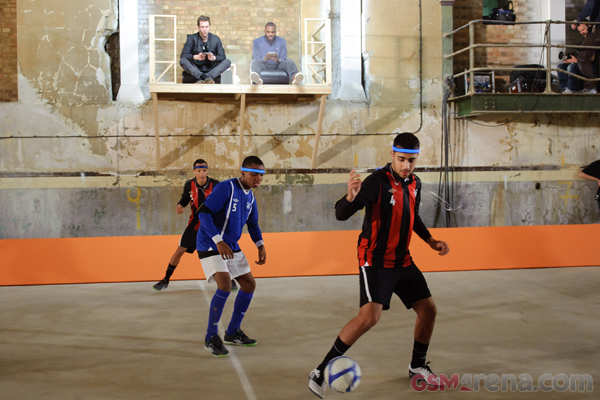 Some of you might have caught UK TV series The Gadget Show's Battlefield 3 simulator, which married a host of different technologies together to try and place the player in the game environment, making it one of the most impressive FPS (first-person shooter) experiences ever.
Now it would appear that Sony Ericsson are trying their hand at a similar experiment to promote their ever-growing catalog of football titles available on the Xperia PLAY. How they achieved this is simple, by inviting lead singer of indie/rock band Kasabian's Tom Meighan and Aston Villa/England footballer Darren Bent to a 5-a-side head to head match using Xperia PLAY's, but with one important twist.
These PLAY's weren't controlling pixels on a screen, but rather actual players on a pitch with headbands relaying the celebs' commands OTA in real time. The concept apparently took a little getting used to by both the celebrities and the players, but once the teething issues were out of the way, it would appear that Tom and Darren genuinely had control over the two football teams, take a look.
It's a pretty impressive idea and looks like a lot of fun, just as long as this isn't a step towards real-life versions of Call of Duty or worse, Farmville. What mobile game or genre of games would you most like to see "IRL'd"? Let us know in the comments below.