Ok, technically, that heading up there might be a wee bit over-the-top but what I meant is that the just announced Sony Ericsson XPERIA X8 has already been featured in a series of live shots made by electronic publications from around the world.
The Sony Ericsson XPERIA X8 just went official and not a moment later, the Internet was filled with live photos of it, even a couple of previews. I've assembled a quick photo tour from these previews – especially interesting is the size comparison between the X10 mini, X8 and the big X10…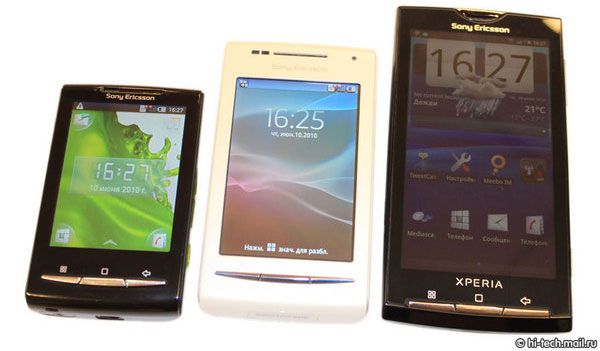 Here's the size comparison – if I were Goldilocks I'd say it's not too big, not too small, but just right.
Moving on to the colors – those are similar to what we saw on the X10 mini.
Plugging in the headphones, notice the new kind of port Sony Ericsson came up with. It provides additional pins for music controls and so far only the optional Sony Ericsson MH810 headset makes use of it. We saw that same port on the XPERIA X10 mini, but the headset in its retail package had a regular 3.5mm audio jack.
And finally a few shots of the Sony Ericsson XPERIA X8 in the hand.
Image sources: AllAboutPhones, Hi Tech Mail.ru, GSM Help Desk