Yet another smartphone dared to try its capabilities in our new battery test. The Sony Ericsson Xperia Pro is here and, knowing how many fans the manufacturer has, we are sure many will be interested to know how it did.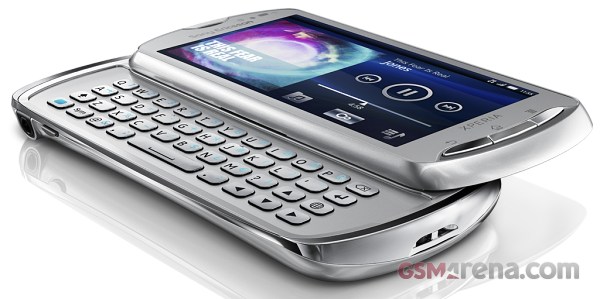 The Sony Ericsson battery has 1500 mAh of capacity, which is not quite as impressive as what the Galaxy Note (the only other droid we've tested so far) had to offer. It is important to note however, that the device has a screen more than two times smaller than that of the Samsung phablet, so we were pretty interested to see the results.
As usual we started with the 3G talk time endurance. It took 6 hours and 57 minutes of talking to deplete the battery of a fully charged Sony Ericsson Xperia Pro.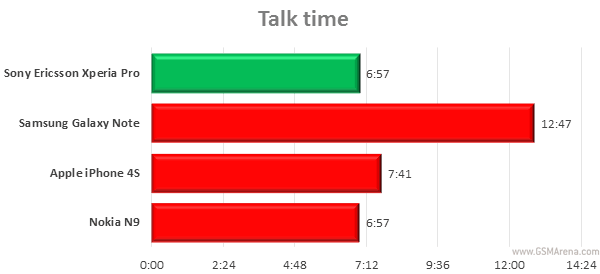 The second trial was browsing lifetime. We are getting lots of questions about this one so here are the exact specs of the test. We use an automated script, which reloads a page every ten seconds. There are no flash elements on the web pages we have chosen, so the playing field is even.
The brightness of the phones' displays is set to 50% and we use a Wi-Fi n connection, with the router placed a few meters away from the tested phones, so we are getting full bars on every one of them.
The Sony Ericsson lasted for 4 hours and 50 minutes here, which makes it second to only the iPhone 4S (from the devices we have tested so far).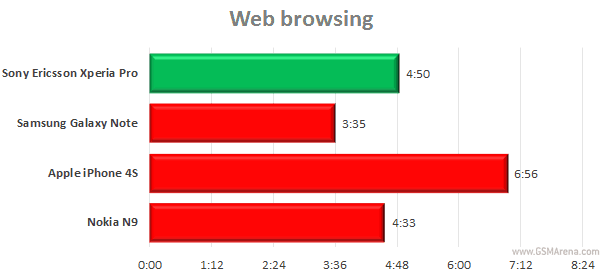 The last individual test is video playback and it's where the Sony Ericsson lost out the most to the other tested handsets. 90% of the smartphone's battery only sufficed for 5 hours and 44 minutes of continuous video playback.
The video playback test is conducted by looping an SD video with the screen brightness set to 50% and all radios switched off.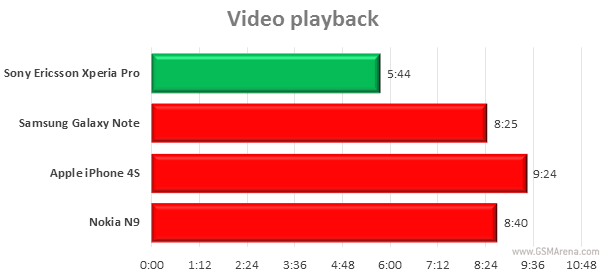 Finally, we come to the overall usage benchmark. The Sony Ericsson Xperia Pro has fairly efficient stand-by, but due to the poor video playback performance only got an endurance rating of 37. That number means that if you do one hour of 3G calls, video playback and web browsing each per day, you will need to charge your smartphone every 37 hours.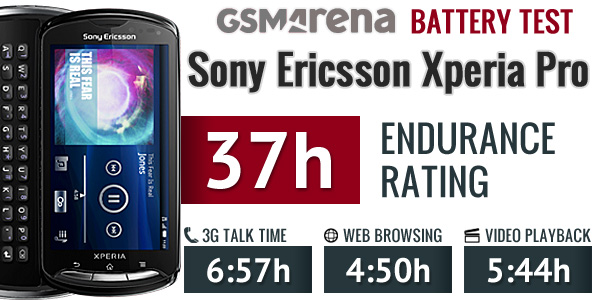 By the way, our complete Sony Ericsson Xperia Pro review is coming out tomorrow, so stay tuned if you have any interest in the smartphone!