LiveView, Sony Ericsson's touch-enabled mini remote control for Android phones, is on sale in Europe – and for less than expected. It can be worn as a watch or clipped to your backpack strap and it's just on time, coming out after the Android Eclair update has started for the Sony Ericsson XPERIA X10 lineup…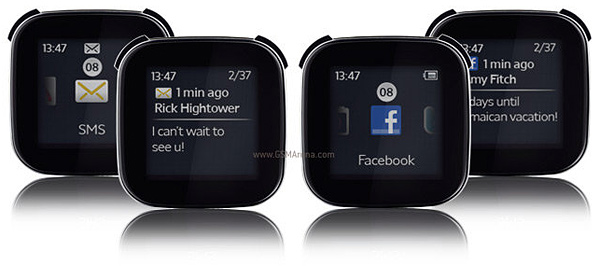 The Sony Ericsson LiveView uses Bluetooth to connect to your Android 2.0+ phone (it should work on non-SE phones too) and control it. It can display messages, control the music player and so on.
It can do that thanks to it's 1.3" 128×128 pixels AMOLED screen, which has four touch-sensitive areas for soft keys (not true multitouch, but on such a small screen it wouldn't matter) and two hardware keys as well. The LiveView has the watch-like dimensions of 35x35x11 mm and weighs 15 grams.
The wrist strap that turns it into a watch and clip to attach to your clothes come in the box – the whole Sony Ericsson LiveView package can be yours for 59 euro from the French retailer The Phone House or 56 pounds from Amazon UK. Play.com do one better – 50 pounds (matching the French price). It's cheapest in Germany however – GetGoods.de offer it for just 48.90 euro (including VAT and shipping).
Will you get one? And how will you use it? I keep thinking LiveView would be better paired with a tablet (which you probably carry in your backpack) rather than a phone (which is easily reachable in your pocket). But maybe you can come up with something better – leave a comment if you do.