Sony just launched the Sony Dash – a "Personal Internet Viewer" (it's sort of like an Internet-oriented tablet). Not bad for 200 US dollars, right? It would have been if there weren't a key Internet application missing…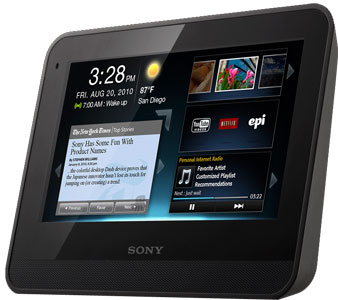 The Sony Dash is like a combo between a tablet and an bedside alarm clock from the future. It has a 7" WVGA capacitive touchscreen with multi-touch capabilities and Wi-Fi connectivity (b and g).

If the promo video is any indication, the idea behind it is that it works as an alarm to wake you, let's you check the weather forecast, traffic information, news and so on.
After a busy day's work, the Sony Dash goes into entertainment mode – it can play videos from CBS, Netflix, YouTube, Pandora, Slacker, view photos (it can load photos from a USB mass storage device), browse Facebook, Twitter, Gmail and you can download over a 1000 free apps for the Dash.
Other specs include up to 1080p video playback, MP3, AAC and WMA player with stereo speakers, multitasking and the whole thing weighs 544 grams. The Sony Dash is meant for home use as its fatty form factor doesn't look very portable.
Sounds great, and for just 200 bucks, sign me u… wait. It's an "Personal Internet Viewer" but does it have a little thing called "Web Browser", so I can browse any site – not just the ones that have a dedicated app?
I couldn't find a web browser mentioned on the specs page, so unless I overlooked something, I'd say the name is pretty misleading, huh?